King's Inch is a single malt whisky from Glasgow. The spirit was designed by Jim Swan (see Macaloney's, Nc'Nnean, Cotswolds, Gouden Carolus and many more) and produced by Jack May (head distiller at Glasgow distillery).
The mother company Courageous Spirits already had a gin and ventured into whisky around 2017. They chose to work with West Coast barley, the Anchor DY502 yeast and a narrow spirit cut.
King's Inch started with a core expression, around five years in age, a combination of first fill Kentucky bourbon barrels and first fill Oloroso sherry casks. A nice change from the expected STR casks. Today we also have a chance to try two unreleased bourbon single casks and the recently launched Single Cask Sherry Edition.
King's Inch – Single Malt (46%, OB +/- 2022, 5000 btl.)
Nose: crisp and inviting. A lot of Granny Smith apples and lime at first. Then biscuity notes, vanilla custard and ginger. An interesting hint of cement or plasticine as well. The sour apple becomes a baked apple. Subtle raisins and mild spice, but otherwise hardly influenced by sherry casks.
Mouth: good weight with a big malty core, bringing muesli, oats and mild peppery notes to the table. Then hints of honey and raisins. Light herbal notes, nutmeg and liquorice as well. It develops a subtle chocolate note towards the end.
Finish: medium, quite spicy (pepper) with a vague malty sweetness.
While not very old, most of the rough edges are polished out already. A decent sip and a nice starting point for the brand. The spicy (even slightly feisty) edge helps to break out of the classic 'Dr. Swan design'. Available from the online shop or UK retailers like Master of Malt of HTFW for instance.
King's Inch – Single Malt (62,1%, OB 2022, single bourbon cask #80)
N: similar freshness, more towards vanilla and pastry sweetness now. Hints of toffee and white chocolate. Still apple and pears. Less complex but very accurate. M: again rather exemplary for a young malt from a good bourbon cask. White pepper, ginger and vanilla icing. Sweet lemons and toasted malt. The wood becomes louder in the end. F: medium, peppery, with a slightly grassy edge. 〉〉〉 Slightly boring, but a quality cask that displays easy vanilla sweetness. Score: 80/100
King's Inch – Single Malt (67,9%, OB 2022, single bourbon cask #97)
N: much more closed. Much less sweet as well, this shows more of that mineral hint of gravel and fresh grist. M: almost entirely on oats and muesli, mixed with white pepper and liquorice. The drier part of the spectrum. F: quite long, with prevailing peppery and grassy notes. 〉〉〉 While quite narrow and hot, this is the more interesting cask of the two in terms of flavour profile. That said, they did a good job in blending bourbon casks with sherry in the core expression. Score: 81/100
King's Inch – Single Cask Sherry Edition 7 yo 2015 (58%, OB 2022, Oloroso cask #53, 586 btl.)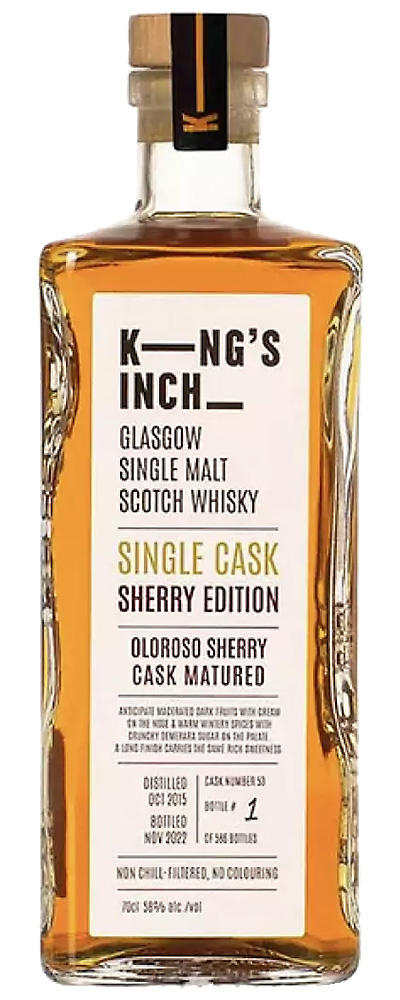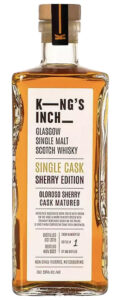 Nose: it's been a while since I've had such a meaty, sulphuric sherry expression. You know, a dirty bin, mulching leaves and a hint of fermenting fruits. Then hints of Marmite and a generous dose of treacle. It does settle down after fifteen minutes, moving towards brown sugar and toasted oats.
Mouth: a lot of savoury notes again. Cooked meat , mushrooms and Marmite, as well as miso sauce. Roasted nuts, crushed black peppercorns, chocolate and a funny hint of mulled wine. Raisins and wintery spice set in, but it's hard to get over the meaty side.
Finish: long and peppery, with a hint of raisins.
Not my kind of sherry cask. I'm not sure how many sherry casks they could choose from, but selecting this as the first single cask is a missed opportunity. My humble opinion, as always. Available from the online shop or retailers like Master of Malt of HTFW for instance. Score: 72/100