Vintage Bottlers is bottling exceptional single cask whisky. While the company was only formed in 2020, the team's experience goes back to the early 2000's.
A quick look at their website and you'll understand Vintage Bottlers set the bar high. Most of what they have on offer are 20+ and 30+ year old whiskies. There's The Secret Series but also plenty of disclosed (and well-known) distilleries like The Macallan, Bruichladdich, Isle of Arran…
We start with a secret Speyside single malt that is hardly secret. The coordinates on the label point to Glenlivet.
Speyside Single Malt 29 yo 1992 (44,8%, Vintage Bottlers 2022, bourbon cask, 266 btl.)
Nose: lots of garden fruits. Green apples, gooseberries, citrus and faint hints of yellow plums. Pineapple in the background. Vanilla custard and ice cream. Some grassy and floral honey. Then a minty note adds extra freshness. Very easy-going.
Mouth: sweet, still fruity, with a lightly tropical profile now. There's pineapple and mango, as well as a hint of passion fruit sorbet. Hints of lime and nectarines, alongside creamy vanilla. Really good, almost Irish at times. Hints of Darjeeling tea and whiffs of jasmine.
Finish: medium long. with Sauvignon Blanc fruits, lemons and pink grapefruits, mead and some confectionary notes.
A really good cask which reminds me of a Svenska Eldvatten release. Lots of attractive fruits here. It is a little soft but that makes it even easier to down. Available from The Whisky Exchange for instance.
Ben Nevis 26 yo 1996 (47,1%, Vintage Bottlers 2022, bourbon hogshead #416, 252 btl.)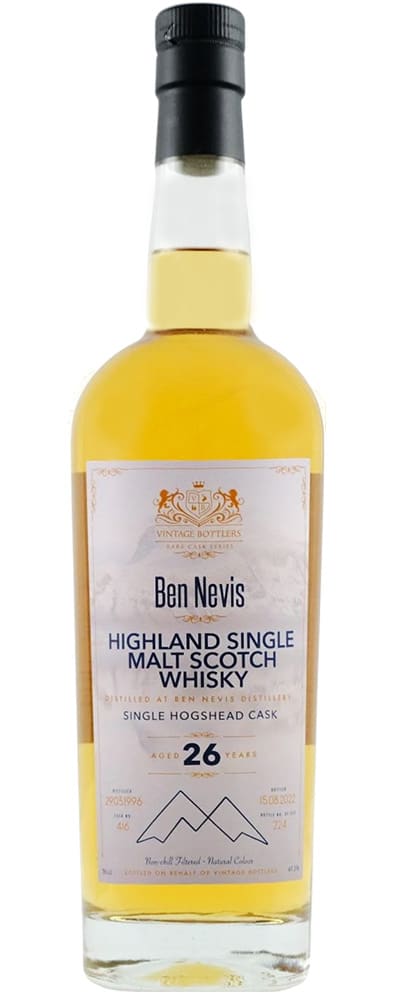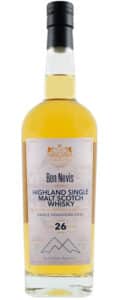 Nose: citrus notes with a faint yoghurty element that you sometimes get in these vintages. Butter milk. These hints fade and evolve towards leafy notes, juicy pears, gravelly notes and mineral oils. A little vanilla. Then some grapefruit but so far not the bright fruits we were hoping for.
Mouth: a bit of a Sauvignon Blanc profile now. Gooseberries and green melons, with grapefruits and kiwi. Then light hints of passion fruits perhaps, but they are shy. Also the waxy side is a little subdued. Some herbaceous notes and putty, as well as hints of leafy tobacco and soft leather.
Finish: medium long. Sweet citrus, oily notes and hints of leather.
Very good Ben Nevis, no doubt, with mild fruits and gentle leafy notes. Just not the fruit explosion of the best examples. Perhaps I expected more after the Glenlivet, which was more impressive. Available from The Whisky Exchange for instance. Score: 88/100
Islay Single Malt 32 yo 1990 (52,1%, Vintage Bottlers 2023, barrel, 242 btl.)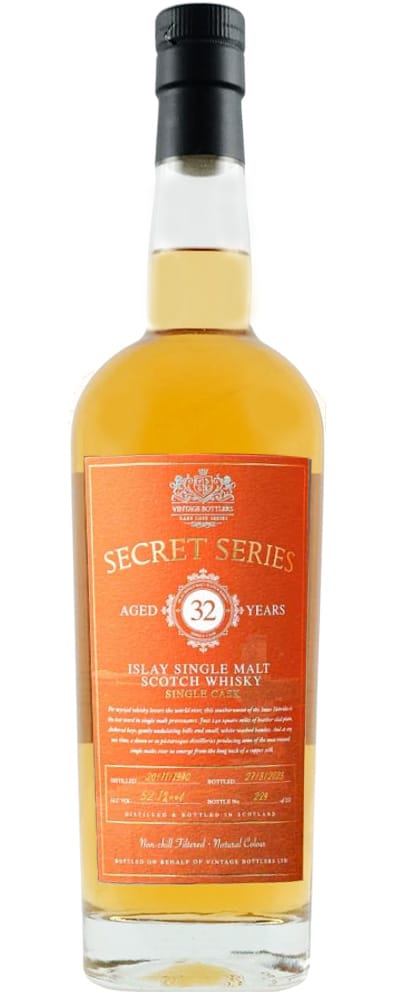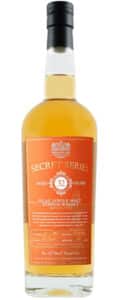 Nose: more punchy and smoky than some similar casks. Mentholy peat, with sunflower oil and sharp ashes. Then seawater, gauze, hints of grapefruit. Green fruits and iodine. Maybe a hint of sweet mustard. Really good.
Mouth: sweet citrus, saltwater and kiln smoke. Gentle antiseptics, as well as cough drops and sweetened herbal tea. Sea shells, a little pepper, hints of apple and toffee. Hints of roasted thyme and warming vanilla as well. Well aged but still full of power.
Finish: long, mature, mild ashes and roasted herbs.
It's not a big secret that this is Laphroaig whisky, perfectly mature and highly rewarding. Available from Vintage Bottlers direct, or Master of Malt for instance. Score: 91/100
The next one is a 24 year old Arran. It has a walnut brown sherry colour with a slightly greenish tint, at least my sample.
Arran 24 yo 1997 (51,6%, Vintage Bottlers 2022, sherry cask, 235 btl.)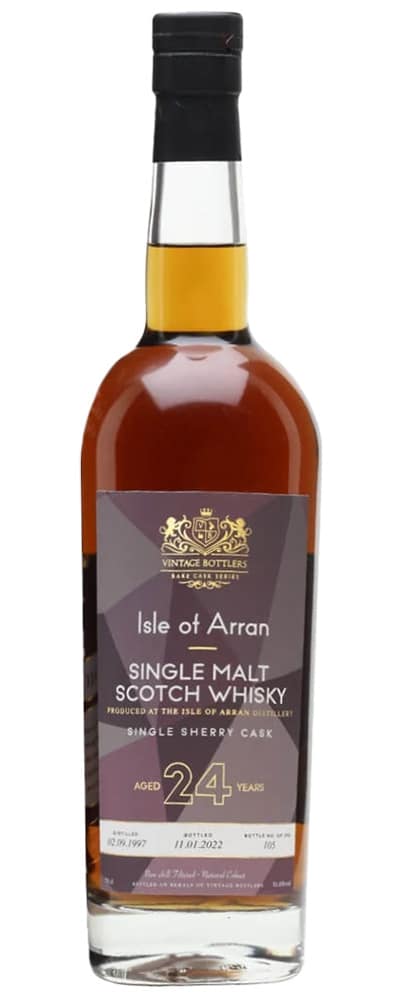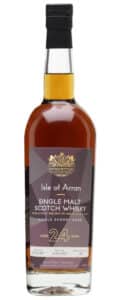 Nose: not entirely classic indeed. Green leafy notes, sour berries, raspberry jam, kiwi and cooked rhubarb. Then orange peels and marmalade. Hints of molasses, leather, lightly roasted vanilla and light wood spice. Sour tobacco leaves. After some time it becomes quite floral.
Mouth: fruity and herbal now. Tart pineapple and kiwi again, tart green apple. More orange peels, lime peels, tangerines and pink grapefruit. A nice fruitiness provided you're a fan of juicy sourness. Then some green tea with bergamot and ginger. A greenish woody side, aniseed and a touch of menthol as well.
Finish: medium length, with tangy fruits, soft herbs, walnut and fruit tea.
I do like tart sour fruits, so even when this is not a classic sherry cask, it is really interesting and pleasant. In a way this feels even older, with elements that remind me of some of these undisclosed 1970s Speysiders. Wicked. I'd love to know what kind of cask this was. Still available from Master of Malt and The Whisky Exchange for instance. Score: 90/100
Port Charlotte 21 yo 2001 (48,7%, Vintage Bottlers 2022, rum barrel #260, 259 btl.)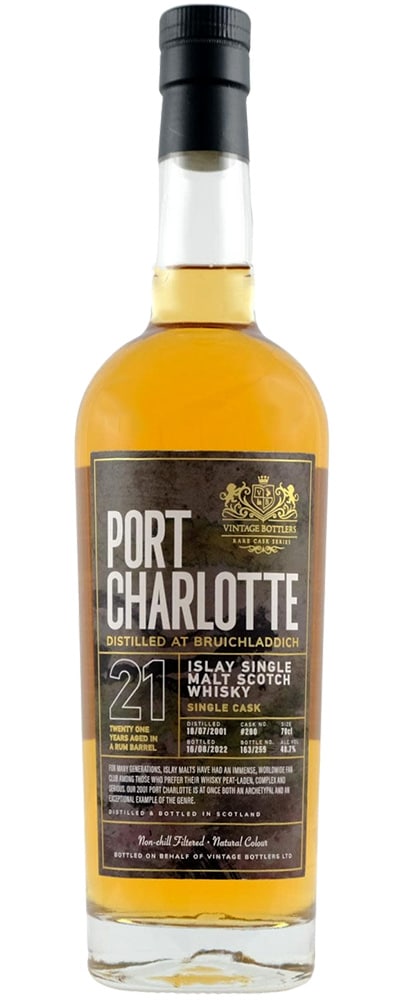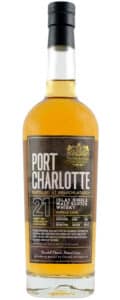 Nose: smoked paprika and glorious farmy notes. Think sheep stables, horse dung, warm hay and wet dogs. Hints of Brora 30 or these funky Cooleys indeed. Wood smoke and subtle bandages and mentholated notes. Then wax candles, wet cardboard and Lapsang tea. Nice, deep smoke of scorched wooden logs and barbecue ashes. Crushed sea shells, driftwood, wet fabrics. Hints of lemon in the background. Lovely.
Mouth: good arrival, full of strong peat, charcoal, sooty notes. Then iodine and herbal sharpness, dashes of lemon, crushed black peppercorns and aniseed. Flints and wet pebbels. Then a subtle hint of herbal honey, perhaps a rummy sweetness – sweet and savoury unity. Lovely charred notes, barbecue ashes. While the farminess is more subtle now, the entire profile is quite lovely. An interesting hint of diesel too.
Finish: long, deeply sooty and ashy with ginger, pipe tobacco and lemon.
While I didn't really go through all of them, this must be one of the best Port Charlottes I've had. Really excellent, with plenty of depth, peat of course, but much more. And this unique farminess. Yeah, I know it's expensive. Still available from Vintage Bottlers, The Whisky Exchange or Master of Malt. Score: 91/100
Overall impression after this first encounter with Vintage Bottlers? A premium selection of single malts, carefully chosen. Most bottlers would include one or two whiskies like this in each batch, but Vintage Bottlers limit theirselves to going for the best ones only. That said, they are all quite expensive.