The Whisky Jury recently presented three new rums. They are part of a new series called The Many Faces of Rum – beautiful labels of animals showing their face in the jungle. It replaces their clean off-white labels. Let's dive right in.
Enmore – Versailles 32 yo 1990 (50,9%, The Whisky Jury 'The Many Faces of Rum' 2022, refill barrel #22, 222 btl.)
Nose: elegant Versailles. It opens on a mix of dried herbs – oregano stands out, but also thyme and fennel seeds. Then hints of pencil shavings, green tea with lemon. Very subtle olives in brine. Also fabrics, dried flowers and the lightest whiff of glue and wax in the background. Lovely and unique.
Mouth: quite assertive and thick, but again firmly un-fruity. It's entirely on salty liquorice, a kitchen drawer full of dried herbs, pine needles, with hints of sea salt and camphory earth. Bitter almonds and some medicinal hints, like menthol. Later more pencil shavings. Then ink, black olive tapenade and faded hints of petrol. Not exactly easy sipping rum, but nicely complex.
Finish: long and herbal. Slightly less special now, just a refreshing finale.
Excellent Enmore, a good benchmark for this style and age. No ester bomb, not a fruity rum either, but a unique mix of herbs and this specific woody style. The nose is even better than the palate. Anyhow, a great start of this session. Check The Whisky Jury for retailers.
TDL 19 yo 2003 (62,7%, The Whisky Jury 'The Many Faces of Rum' 2022, cask #4, 222 btl.)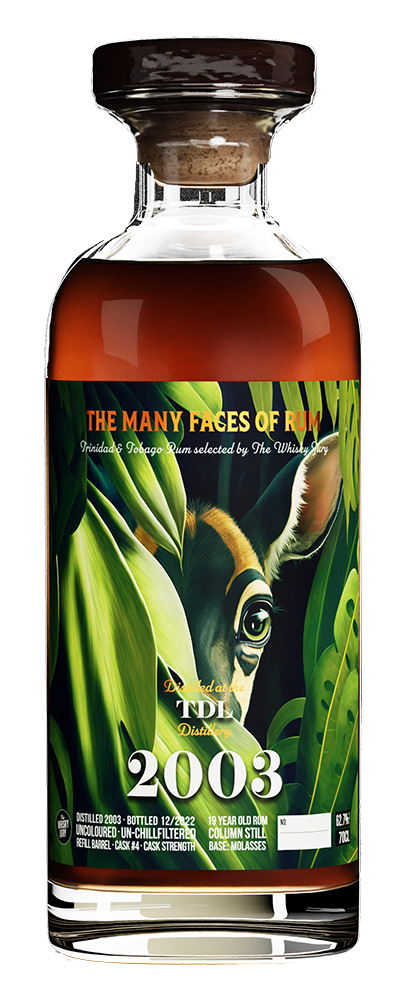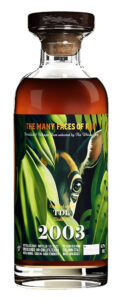 Nose: starts seemingly easy and rounded, with a big dose of maple syrup, ripe bananas and hints of caramel. Then after five minutes it gets increasingly juicy, with beautiful hints of red vineyard peaches, mangoes and pink grapefruits. Hints of lychee, floral honey and cane sugar juice as well.
Mouth: a similar tropical fruitiness, with bergamot, mango and (tinned) peaches again. This time some oak spice is added. A salty touch and maybe a hint of petrol, but this is certainly not as funky and estery as Caroni. Later also hints of liquorice, aniseed and clove.
Finish: long, half sweet, half spicy, on caramel and drops of medicinal potions, as well as flashes of maracuya.
Less industrial than Caroni, but pretty great nonetheless. Good complexity, lovely tropical fruits and high drinkability. As Caroni became too expensive, TDL now deserves our attention. Excellent selection. Score: 90/100
HD 2007 (62,3%, The Whisky Jury 'The Many Faces of Rum' for Care for Craft / The Purist 2022, refill hogshead #8, 239 btl.)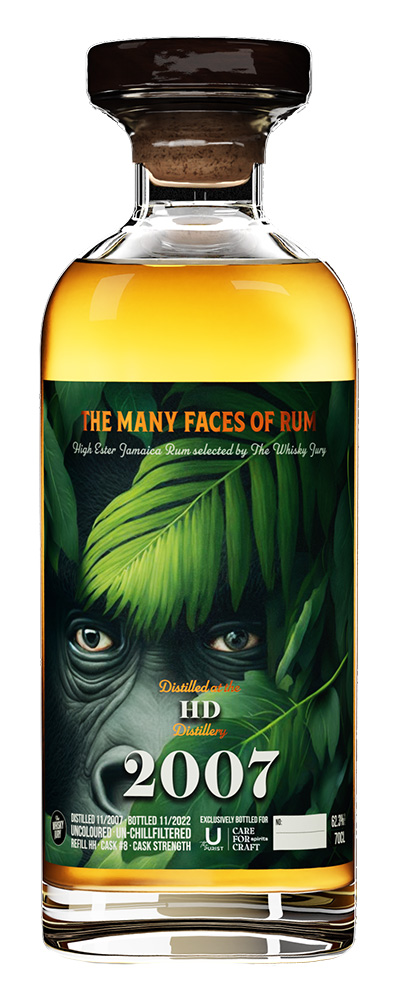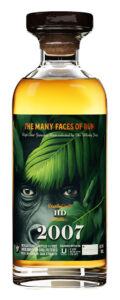 Nose: plenty of esters now. Ethyl acetate, glue and different varnishes. Also truckloads of overripe bananas, with grilled pineapple and sour berries in the background. Then pickled lemons, green olives in brine and hints of plastics and ammonia. Pretty perfect.
Mouth: wowzah. High intensity, with more turpentine and glue, as well as brine and tar. Then mid-palate the mashed bananas and fermenting pineapples come out, with a nice sour edge. Peppery punch. Something of a buttery thickness as well. Floral estery notes, with the kind of astringency that is very welcome in this profile.
Finish: medium to long, with a lot of banana flavours staying strong, as well as a peppery note.
Tingling esters with a beautiful vibrancy. Pretty much a no-brainer! The thing is, these three profiles are very different but they're all great within their style. This one was exclusively available from Care for Craft and Wine4You, but sold out, I guess. Score: 91/100