The Peat Reek series from independent bottler Blackadder is a celebration of peat smell. Within this range there are standard 46% ABV bottlings but also Raw Cask bottlings at full strength with minimal filtering. Always single malt whiskies, as far as I know.
Today I'm trying two expressions from the Peat Reek Embers sub-series: specially selected casks with the same heavily peated quality, but given a secondary cask finish. In this case we're having two styles of sherry head-to-head: Amontillado and Oloroso, both bottled March 2022.
Peat Reek Embers – Amontillado Cask Finish (57,4%, Blackadder 2022, 325 btl.)
Nose: heavy peat of course, with a nice savoury, charred aroma. Then warm leather comes out, as well as a coppery / metallic edge. Some dried grass, wet gravel, spearmint and sweaty tarmac. A generous toffee sweetness with vanilla cake in the background, but also a faint woody sourness.
Mouth: plenty of raw power. Youth is showing, but there's a lot of tarry notes, bonfire smoke, burnt leaves and herbal sharpness. Then a wee hint of rubber before it becomes very salty, on liquorice. Rough hints of ginseng. Not much sweetness now, this is all about strong, slightly acrid peat.
Finish: long, with a leathery dryness, woody notes and herbal bitterness.
I would call the nose rewardingly intense, but on the palate this Peat Reek becomes a slightly masochistic whisky. Raw, slightly bitter, with plenty of wood char. Still available from Whiskysite.nl for instance.
Peat Reek Embers – Oloroso Cask Finish (59,2%, Blackadder 2022, 464 btl.)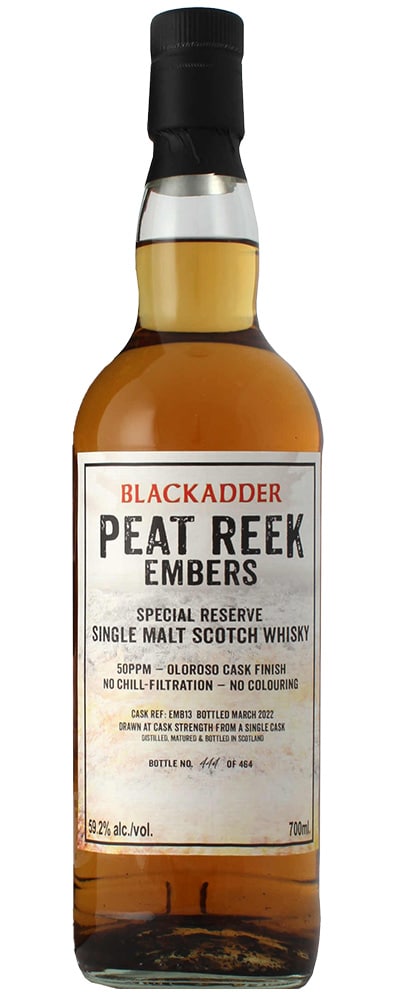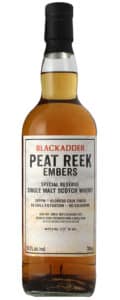 Nose: very similar actually. We expected more dried fruits or nuts, but that's not really the case. Okay, maybe roasted hazelnuts. Sea spray and charred notes. Faint buttery aromas too. The warm peat smoke and savoury character hints at Kilchoman or Ledaig, but we're not sure.
Mouth: I assume the base whiskies were nearly identical. Beefy, muscular whisky. This feels slightly less tangy, less tough, but differences are small. Grilled meat, toasted nuts, burnt leaves and bonfires on a beach. Tarry notes and salty liquorice towards the end.
Finish: long, salty and tarry. Bring on wintertime.
Both are leafy, beefy, tarry peat bombs with the sherry playing a minor role and leaving a nearly identical footprint. No way you could identify the type of sherry cask used, but I'm sure lovers of this genre won't mind. Samples are available from Whiskysite.nl. Score: 86/100