I had to look it up: the last time I reviewed an Asta Morris release was three years ago. Time flies. Belgian bottler Bert Bruyneel now has an impressive line-up of over 100 bottlings, although he is so active in the Far East that a lot of these releases were never sold in Europe.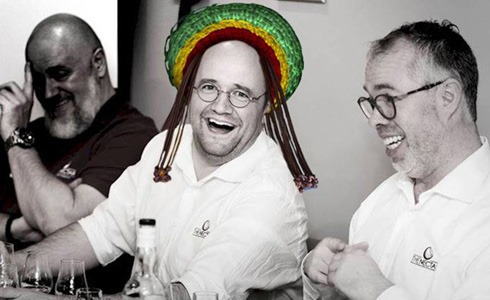 Now there's a sidekick label called Rasta Morris: rum indeed. We're trying the first two bottlings, a Foursquare 2004 (Barbados) and Caroni 1997 (Trinidad).
If you get your hands on a bottle, be sure to check the back of the label as well (through the liquid), there are visual clues about the rum, nice touch!
Foursquare 13 yo 2004 (61,1%, Rasta Morris 2018, Barbados, ref. RM 002, 196 btl.)
Nose: smooth, with butter cake and oily coconut (not the synthetic kind), hints of mead and baked bananas. Hints of mango syrup underneath. Roasted pineapple. A good dose of bourbonny wood, with some leafy and leathery notes too which means it's never cheap or too sweet.

Mouth: intense, with oak and spices but the same fruitiness. Good balance. Dried apricots, raisins and vanilla sweetness countered by peppery oak, cigar boxes and grassy notes. Even a slight smoky edge?

Finish: long, on baked pears with a leafy and even salty note.
A rounded, fruity rum with a layer of fresh bourbon oak on top and drier notes that make it extra interesting. Very good. Around € 75.
Caroni 20 yo 1997 (63,1%, Rasta Morris 2018, Trinidad, ref. RM 001, 227 btl.)
Nose: quite a jammy, rounder style of Caroni. Maple syrup, pineapple, orange cake. Furniture polish, old waxes. A nice sappiness too. A little menthol. Quite gentle, only traces of the typical petrol and tarmac, on a second level. Complex really, just delicious.

Mouth: bigger now, more greasy, more tarry and phenolic. Peppery warmth, some resinous notes and menthol. Just hints of overripe bananas and Seville oranges. Herbal notes and cedar wood.

Finish: long, mentholated, with sweet smoke, hints of citrus and polished oak.
Much more of a powerhouse (and then again not the most extreme example of this distillery). Love it. Around € 175. Both are starting to arrive in stores in the low countries.