This is currently the oldest release in the new Port Askaig range, although a 'Special release' 30 year old will be added towards the end of 2009. Bottled at Imperial 80 proof (today's 45,8% vol). It is available through The Whisky Exchange and through local importers in most of the European countries, Japan and Taiwan.
There has been some discussion about the bottle design, because it seems to be based on the Ardbeg Corryvreckan bottle, with embossed text and an off-white label. Personally I don't mind, I don't think you would accidently buy the Port Askaig if you were looking for an Ardbeg.
Port Askaig 25y (45,8%, Whisky Exchange 2009)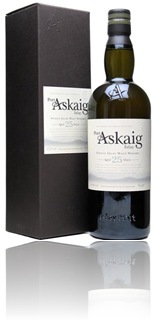 Nose: much more fragrant and delicate than the cask strength. Less phenols and coal smoke, but more fruit. Beautiful citrus notes (orange blossom water), sweet melon and yellow apple. Some blueberries and waxy notes. Ashes and smoke in the distance. Hints of lemon.

Mouth: sweet and malty. Very mellow. More lemon. More spicy oak influence as well (nutmeg). Nice vanilla. Towards the finish, lovely notes of cocoa and mocha. With a drop of water, it gets fruitier and the oranges and berries get noticeable again.

Finish: good length. This is where the fruit fades and the peat smoke appears. Getting drier and peppered.
Very good and really elegant. The flavour profile is quite different from the Port Askaig Cask Strength. Less maritime and less straightforward. Available from TWE and highly recommended.
Score: 88/100