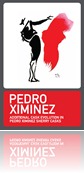 The Bruichladdich Sherry Editions are interesting experiments in which the same whisky is finished in different sherry casks for two years.
For the 2008 edition they selected an Oloroso and a Manzanilla cask. Last year it was a Fino cask and a Pedro Ximénez cask from the Bodegas Fernando de Castilla (Ximinez is not exactly a misprint, but it's not the common spelling either). I'm not sure if they have much more cask types to choose from, maybe a Palo Cortado or an Amontillado?
I was especially interested in the PX cask, as it has proven to get nice results. It's the most luxurious and sticky kind of sherry.
Bruichladdich 17 yo 1992 'Sherry Edition 2 – Pedro Ximinez' (46%, OB 2009, 6000 btl.)
Nose: honeyed sherry with fresh raspberry notes. Reminded me of Glenmorangie Sonnalta PX in a way. More oak though and slightly more vinous. Darker notes of blackcurrent. After a while, spices show up (ginger, cardamom).

Mouth: pears poached in wine. Other fruits as well: plums, melon, strawberry marmalade… Quite sweet, thankfully the spices add more depth. Hints of nougat.

Finish: lingering cardamom, raisins, oak and caramelized sugar.
The Pedro Ximénez has brought an intense sweetness and deep fruitiness to this whisky and the balance with the spirit is pretty good.
Around € 75.
Score: 85/100