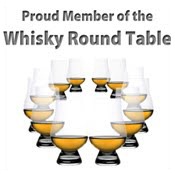 The Whisky Round Table still consists of 12 noble knights who discuss all things whisky on a monthly basis. This September issue was fired by my question:
Most beginners seem reluctant to buy independent bottlings, as distillery releases are said to have more credibility and a constant quality. What are your experiences with independent bottlers when it comes to quality, pricing, availability, creativity…? Also, please pick one of your favourite bottlers (or ranges) and tell us why you recommend them. 
The twelve answers are below…
Mark Connelly
Whisky Whisky Whisky
To me, independent bottlers compliment the distilleries themselves for a couple of reasons. Firstly, most IBs (independent bottlings) are single casks and can be found at cask strength or at 46%, whereas most OBs  (own bottlings) are large vattings of many casks watered down to 40% or thereabouts. Secondly, IBs are often the only place to source certain whiskies since the output of many distilleries heads straight for the blending plant.




Pricing seems to be better with IBs these days as distilleries themselves rebrand and premiumise their own offerings. Having said that I would probably still recommend that beginners try OBs first, mainly because the quality and consistency of many IBs can vary remarkably. I've had some utterly fantastic whisky and also utterly stinking whisky from the same bottler.




Picking a single favourite bottler to highlight is impossible but I'll name a few I have had really good bottlings from recently: Berry Bros. & Rudd (consistently great whiskies), David Stirk's Creative Whisky Co. (interesting use of new oak finishing), Compass Box (creative use of wood and blending) and Adelphi (same as BB&R).

As with everything in whiskyland, you've got to get out there and try something new.

Chris Bunting
Nonjatta
The basic structure of the Japanese whisky market completely lacks diversity: two huge companies, Nikka and Suntory, account for the vast majority of sales. These companies do not have much to do with independent bottlers, although they do allow some owners cask schemes that are sometimes used by smaller bars to provide their own special bottlings. The independent bottlers work on the extreme periphery and are usually using whisky from very small or defunct distilleries not owned by Nikka and Suntory. Yet their significance for the future development of Japanese whisky is, in my opinion, massive. They are funding and encouraging the development of quality whisky production beyond the two giants and playing a leading role in developing the export market in very high quality Japanese whiskies that has begun to emerge in Europe and hopefully will also start to form elsewhere.




My experience with most of the Japanese whisky independent bottlings is that they are of good quality but are  expensive. You would definitely get more bang for your buck drinking only the mass bottlings of the big makers but you would miss out on so much fun and variety. I will mention two independent bottling series here: The Noh series of whiskies from No. 1 Drinks Co. in the U.K. which, as I explored in a recent post of my blog, has put out some extremely interesting casks from the old Karuizawa distillery over the past couple of years and Ichiro's Malt from the old Hanyu distillery, which I have mentioned previously on the Round Table. The Ichiro's Malt range is bankrolling the new Chichibu distillery in Saitama, the most exciting craft whisky operation in Japan.




Joshua Hatton
Jewish Single Malt Whisky Society
I can completely understand one's apprehension to an independent bottling, not just "beginners".  Let's face it.  Whisky is expensive. Even with most entry level whiskies you're going to spend a good $40-50, easy.  So, if a newbie sees a bottle put out by someone other than the distillery they may think – "wait a sec, something is wrong here"…   From a beginner's perspective, I would venture to guess that what they'd expect the independent bottler getting is the dregs of the distilleries whisky.  Oh, how wrong that thought is!




The first thing that people need to understand is that nearly every single bottling out there (put out by the distillery) is a blend.  Yes, it's called a single malt, but, it's a blend.  Legally, if many whiskies are blended from one single distillery to make their 12yr, 18yr, 21yr, etc… bottle it's still called a single malt because it comes from one distillery.  Let's get this straight, PLEASE!




So, what's left? In many cases, the casks that the distilleries can not use for their 12, 15, 18yr, etc.. bottles.  Whiskies which are perfect for independent bottling! What you're going to get from an independent bottler, in many cases, are single cask expressions (many times at cask strength, sometimes watered down to 50%, 46%, 43%, etc…).  These independent bottlers are "experts" at choosing a cask that they either see as really good or a nice interpretation of that distiller's whisky.  Let it be known that if you want to stick with OB bottlings (distillery owned bottlings, non-indy bottles) then do it!  These distilleries know what they're doing (most of them… ).  There's nothing wrong with that.  At all.




There are some draw backs to indy bottlings and one of them is availability – yes, a lot of what these independent bottlers do is short run stuff (mainly because they're dealing with a single cask expression).  So if you buy one bottle, you may never see it again.  I sort of like this, to be honest.




And, with regards to pricing, yes, sometimes they could be expensive (but a good 10-50% what the distiller would charge you if you got a single cask expression from them).




As far as creativity goes (and without trying to make a plug here), I'd check out the the Scotch Malt Whisky Society if I were you (www.smws.com) – all independent, single cask, cask strength stuff and perhaps the most creative whiskies around.  Brilliant (if I don't say so myself).  The SMWS is, by far, my favorite independent bottler behind The Premium Barrel & Old Malt Cask (Douglas Laing).


Joel & Neil
Cask Strength
I think we'd freely admit that independent bottlings were a daunting prospect when you're getting to grips with the concept of single malt whisky for the first time. It's suddenly another level of information to learn and plenty more whiskies to try. Some could delight, others could potentially put you off a distillery for good. But with a little guidance from some reputable retailers, we've tried some staggering bottlings.

Because the idea of an Indie bottling is not to particularly represent the house style of a distillery, they do paint a valuable picture on just how versatile some spirit is – and the importance of great wood. The most reputable bottlers won't hang onto a cask until a landmark date, when they could charge a fortune, instead bottling when the whisky is at its best.




From our experiences, the Samaroli bottlings were usually fantastic quality (although expensive now) and also BBR's Berry's Own Selection. The Whisky Exchange's bottlings are always brilliant too.




Best indie bottle in a while? Master Of Malt's 26yo Bowmore– How a whisky can get that fruity/floral is beyond us!!


Keith Wood
Whisky Emporium
Apart from the minority of single cask expressions from official distillery bottlings of course they have a constant quality as they are in the business of offering a range of specifically aged whiskies which they believe best promote their distillery. People like to associate with brands and the distilleries often have large marketing budgets to build and promote those brands. But marketing was last month's debate, so let's move on:




I guess the base question here is "Can independent bottlers really compete with official distillery bottlings, or are they only playing second fiddle to the industry giants?"




Well, firstly what would be the use of offering, say an IB Glen Wobbly 10y when Glen Wobbly themselves offer the same expression? IBs thrive on doing something different and expanding our horizons when it comes to distilleries. Maybe 10y, 15y & 18y expressions exist as OB bottlings for a distillery, but an independent may decide to offer a 17y to show dimensions of the whisky which would not otherwise be apparent. Of course this tastes different to the official offerings, but whether it's better is a matter for personal tastes and palates, but they are always worth trying!




In addition, the independents very often bottle single cask editions which again allow us a rare and extra insight to what the distilleries can actually produce. They also often bottle at higher strengths than the distilleries themselves, which is never a bad idea.




There are indeed some iconic independents and although I haven't the time nor space to mention them all, who could possibly forego any chance to try offerings from IBs like Samaroli & Moon, or some more recent bottlers who I believe will reach iconic status are The whisky agency & Artworks, two bottlers from whom I have recently been very impressed.




In order to succeed, an independent bottler must, beyond all else, offer a good price-performance ratio, they don't have to be dirt cheap, they just have to offer the customer good value for money and preferably that little extra beyond the distilleries' own expressions.




So, to conclude; don't be afraid of IBs, they may push the boundaries in offering something a little different and even more creative, which means the whisky itself as well as snazzy labels. They will often make you think about what you're drinking and in doing so, they actually gain credibility and are always well worth trying, which means not only can they compete with official distillery bottlings, they are well capable of bettering them and they often do!


Gal Granov
Whisky*Israel
The whisky scene in israel is very limited as you know by now. The market is under severe customs and taxation of up to 190%, meaning that most people who buy whisky and appreciate a good malt, buy their whisky at the duty free shops when flying (or when friends are flying out). This causes a great anomaly in the whisky market and inventory that can be found in Israeli shops. When you enter any israeli shop you will fail to find any 'Independent' bottler (save maybe a wee Smokehead by the Iam Mcleod company, that somehow makes its way here). So, as you might expect, most israelies are not familiar with independent bottlings, unless bought abroad. In the past few months the Israeli whisky society has teamed up with the duty free at TLV airport (the only Israeli airport, yes we have only 1!) , and some Douglas Laing bottlings are available (big peat, double barrel etc).




This is also a reason my acquaintance with independent bottlers is not very good. however, The jewish genius does find ways 'out of the box' and I've been able to sample some independent bottlings. The two that come into mind are indeed Smoke head and Smoke head Extra black which are lovely Islay 'mystery' bottlings by Ian McLeod.  The 18 extra black is a brilliant Islay aged whisky, and while not cheap, it's well worth the money in my view.




The 2nd independent bottler and "boutique" whisky maker as they are called are "Compass Box" . I do not believe they need introduction. They have a fine range of vatted and blended and even some single grain whiskies. The Peat monsters is a good Islay and other Peated malts vatting. You can find some interesting combinations like 'Lady luck' and 'Hedonism' which is 100% grain. They have been able to create some out of the box combinations (we all know about the Oak cross issue with the wooden staves, that got the scotch whisky society all angry). they have very nice packaging and marketing is great. All in all, a young and kicking innovator when it comes to the whisky industry.

There are of course other great bottlers, out there, but i selected those because of the factors i listed above.




Thanks god for IB, some of the most interesting drams come from there, and let's hope they will have good access to great casks even in the coming years when distilleries are selling their spirit easily.


Peter Lemon
The Casks

Perhaps like a lot of people, when I first started getting into scotch, the indie world was a little bewildering. Without knowing all the processes involved, I didn't quite understand how it all worked…someone was buying someone else's whisky and putting it out under their own name…kind of?  It didn't help that the first independent bottling I tried was a Murray McDavid (1998 Bowmore 8 Year Chenin Blanc Finish…pretty excellent, as I remember), which isn't all that independent being owned by Bruichladdich.  To confuse the issue are the multitude of cask finishes they're so fond of.  As a newcomer, it was damn hard to know where to begin.




So, I understand it all now, which is something, I guess, but Independents don't figure in to my whisky life too heavily at the moment.  I always look forward to trying them, and there are undoubtably fantastic bottlings and some great values out there, but I feel like there are still a lot of distillery bottlings I haven't had yet, and I tend to rank those higher on my "need to try list". This might be an erroneus approach, but I feel like a distillery bottling is a truer representation of the distilleries style and intent, and I prefer to have a handle on a distilleries style and intent before venturing into single cask indie bottlings.




That said, I think independents can be some of the more interesting malts on the shelf.  For example, the recent Signatory 1992 Ben Nevis 17 Year Old is a sprawling beauty, the likes of which would never have come from a multi-cask distillery expression. I also like that many malts that never see the light of day as single malts, or ones from closed distilleries get their moment of glory via independents.


Mike Connery
Whisky Party
I think this stereotype is roughly fair if slightly overblown.  Of course, the amount of single-cask and small-batch bottlings among independent labels is higher relative to the entire whisky industry.  Since single-cask are high risk/reward types of bottles no matter who is labeling them, independent bottlings in general will have a wider variance with respect to enjoyment, but not strictly because of overall fluctuation in quality (which is a factor having more to do with the bottler than simply being an independent, I think).




As for consumers who want to see another side of a distillery—a heavily sherried, very young Laphroaig for example—or a whisky that rarely appears as a single malt (e.g. a Mortlach), the indie scene can deliver without having to wait for Simon Brookings to show up in your town with his famously whisky-stuffed green Wellies.  But like with any bottle, it's smart to get educated first, and spend the money second—for beginners or seasoned drunks alike.  Still, the more unique the bottling (independent, small batch, vintage, single-cask, etc.), the less likely you'll be able to expect the results.




Though I started off bolder with many of Signatory's affordable but slightly inconsistent single-cask offerings, nowadays I rely on Gordon & Macphail's lower-end ranges, and I tend to stick to vatted and vintage bottlings.  G&M seems to strike a good balance between fair prices, consistency, and deviation from the standard fair.  I've rarely shelled out more than $100 for an indie but on the occasions that I did (e.g. a Malt Trust 37 yo Bunnahabhain), I'd heard from good sources that I wouldn't be disappointed—I wasn't.  And if your sources include a local purveyor such as Brett Pontoni at Binny's, you'll learn, for example, which cask numbers from Caol Ila, relative to the year, are peated (higher) and which are unpeated (lower).  Go ahead, try an unpeated single-cask—just don't expect anything you've seen before.


Jason Johnstone-Yellin
GuidScotchDrink
When first exploring the world of whisky I think it's much easier and a much safer bet to put one's trust (and one's hard earned cash) in the hands of the distilleries.  However, as time passes and one's experience grows there are an increasing number of independent bottlers well worth investigating.  My first foray into independent bottlers focused on Connoisseur's Choice bottlings from Gordon & MacPhail.  The Canny Man's in Edinburgh stocked quite a few and their 1982 Port Ellen was simply sublime.  My love affair with them ended after a poor run that culminated with a painfully flat 11 Year Old Caol Ila.  Here in the US we've received a few top quality Signatory bottlings of young (6, 7, and 8 Year Old), cask strength Laphroaig and Caol Ila with prices ranging from $45-$55.  Indeed, I've just purchased a case of 7 Year Old, sherry matured Laphroaig (that fellow Whisky Knight, Josh, brought to my attention) for $50 a bottle.  A very different kind of Laphroaig bottling for a great price.  In recent years I've been very impressed by the quality of Douglas Laing's Old Malt Cask range.  And I'd be remiss if I didn't mention Blackadder's Raw Cask series (even if they're not in the US any longer).




With all this said, the one independent bottler I recommend most often to whisky fans ready to make the leap from distillery bottlings to something a little different is the Scotch Malt Whisky Society.  I find the range of offerings to be vast (and often helps get me out of my comfort zone), the quality to be top-notch, and the pricing to be very competitive.  The entry fee might seem steep (hell, it might actually be steep) but once enrolled, the whisky that's available is absolutely cracking!  Whether you're looking for 7 Year Old Ardbeg, 19 Year Old Glen Garioch, 26 Year Old Port Ellen or 39 Year Old Glenfarclas the price isn't going to come between you and the whisky of your dreams.  And you can almost guarantee that your hard earned cash will be spent on whisky of the highest quality that's decidedly different from the perfectly groomed distillery releases.


Matt & Karen
Whisky for Everyone
When the topic of whiskies bottled by companies other than the distillery that produced the spirit came up, we could immediately see a number of positives and negatives. The real question for us was, how important are these to the beginner?

On the plus side, independent bottlers offer real diversity to the market. They often release rare and hard-to-find whiskies from distilleries that have closed or are simply not readily available. They may offer alternative ages, alternative casks or different, sometimes quite experimental, cask finishes, from anything the distillery may choose to release. This can offer a veritable playground for the connoisseur and, in some cases, the chance to show off their vast knowledge and experience. The rise in the number of whisky clubs and societies, and the perceived status attached to their membership, is one clear example of this. Is the subsequent large amount of detail so often provided on each bottle – the distillation date, the bottling date, the cask number, the bottle number plus all the usual ABV strength, age, and tasting notes – really of value for the beginner, or just daunting?




With this in mind we began thinking more about the diversity of independent bottlings? We were soon naming numerous bottles that broke the 'rules' mentioned above, and it dawned on us just how many bottles have been appearing on the market in recent years that do, in fact, offer something less detailed for the beginner. The key to the most memorable seems to be the marketing put into place to make the bottle appear less daunting, more mainstream and to some extent blatant about their contents. Take Big Peat by Douglas Laing or Spice Tree by Compass Box. Love them or hate them they do offer what they promise on their graphic labels and for a beginner that may just be the key. The other snazzy marketing trick is the independent bottles ability to put the year and even the month of distillation. How many of us have at some stage in our life really wanted a bottle distilled in the year we were born? A big benefit is the often-friendly price tag. For the connoisseur, this often means that you can pick up something rare and/or old that is actually affordable. For the beginner this can equate to good value for a whisky that they might like to try but really cannot justify the price tag of a distillery bottling.




The biggest negative we could see was the varying quality that comes with diversity. Over the years we have both tried some amazing and some truly dire independently bottled whiskies. The label really can't help the beginner here. It often did little to help us. The trick is to try a whisky sample if at all possible and learn a few basic pitfalls – a really pale older whisky may be the sign of use of a worn-out cask, a really dark young whisky may be the sign of caramel being added to hide a sin or two.




As for our favourite independently bottled whiskies, both of us chose one that we each considered a true 'wow' moment in our whisky drinking lives.

Matt – Compass Box Peat Monster

The choice was a tough one but this bottle stood out as the 'wow' moment as a peaty whisky beginner. The label appealed, the price appealed and the contents made a real impression that lead to peaty whiskies suddenly becoming very interesting.

Karen – Gordon & MacPhail Old Pulteney Sauternes Finish

A chance tasting of the whisky lead to a mild obsession with wine cask finished whiskies, that is yet to subside.  The bottle was so well priced that the should-I/shouldn't I argument was one-sided. This whisky took the scariness out of 'strong' (over 40% ABV) whiskies and what was considered at the time a scarily detailed looking bottle. Without that taste it is highly unlikely that bottle would ever have made it into our cupboard.

Ruben
WhiskyNotes
As the host of an already long Round Table, I won't elaborate too much on my own opinion. Obviously I was partly playing advocate of the devil with my question – I love independent bottlers.




For me, independent bottlings are the only way to really understand a distillery and get whisky that may be outside of the profile that the distillery wants to achieve. Of course this implies better as well as lesser alternatives.




By the way, did you know it's common for a distillery to buy some of their own casks back from indies, once it's clear that their quality is outstanding? Duncan Taylor, Douglas Laing or Gordon & MacPhail are sitting on a a huge and outstanding stock of casks and they're the only ones who can provide certain vintages. These three should be your first stop when exploring independents.




Apart from this trio of "classic" brokers, some smaller bottlers are worth mentioning. They buy casks from the distilleries or from other brokers. Be sure to check out Malts of Scotland and The Whisky Agency (both available in and around Germany).




Also worth mentioning are The Whisky Exchange and La Maison du Whisky, shops with their own ranges (or casks from other indies bottled exclusively for them).