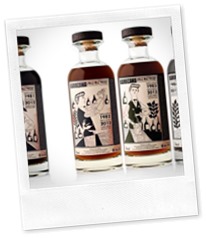 The Cocktail series is a range of four Karuizawa bottlings exclusively sold by La Maison du Whisky, featuring labels by the Japanese artists Hideyuki Katsumata. He was inspired by the link between single malts and cocktails that apparently exists in Japan. Also, bars are the 2013 theme for LMdW (check their catalogue).
There's a 1981, 1982, 1983 and 1984. This 30 years old 1981 is the darkest of the pack, even though the picture exaggerates its colour a little…
Karuizawa 30 yo 1981 (55,8%, N°1 Drinks for LMdW, sherry butt #162, 584 btl.)
Nose: not exactly the opening I was expecting, but that's not a bad thing here. It's sweet and quite fruity. Black cherries, wild strawberries, lots of dates and a hint of passion fruits. Also notes of lacquered pork belly. Sweet pipe tobacco. Huge notes of polished oak, sandalwood I'd say, with some 'good' wood glue. And a whole array of tiny notes like cinnamon, lychee, incense, rum, eucalyptus and sugared nuts. Quite perfect.

Mouth: more powerful now, and quite smoky. Earthy notes, a certain farminess as well. Lots of tobacco again. Then chocolate coated nuts and coffee beans. Cured ham. Bread crust. Sweetness of dates and figs too, as well as hints of fresher fruits (honeydew melon). A bit of sweet liquorice.

Finish: almost as long as a trip to Japan, still quite sweet, showing coal, honey and polished oak. Even a slight medicinal herbalness in the end.
This was pretty much an instant favourite. The fruity sweetness is outstanding. No sulphur nonsense either. And great to see the roundness is coupled to a bit more earthy power on the palate. A gem. Around € 315. Still a few bottles available!
Score: 94/100