Bowmore Small Batch was launched in May 2012 as Small Batch Reserve, but last year it was renamed Small Batch. Originally a UK exclusive, it has recently started to pop up in other European countries as well.
It is entirely matured in first- and second-fill bourbon casks and supposedly the lightest, most delicate expression of Bowmore so far. It is vatted in limited quantities, although there doesn't seem to be a mention of the batch number or the amount of bottles on the label.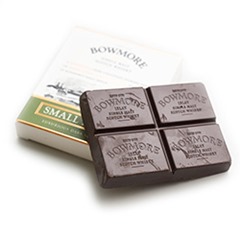 Bowmore Small Batch is also one of two expressions that have now been reinvented into chocolate, together with the 15 Years Old 'Darkest'. British chocolatier Montezuma's created two 60% dark chocolate bars inspired by (and infused with) these whiskies.
The chocolates will be available to sample at different whisky fairs and at the distillery. Or you can buy a bottle of Bowmore Darkest from TWE and get one for free.
Bowmore Small Batch
(40%, OB 2014)
Nose: starts a bit gristy, with raw barley notes, but quickly develops fruity notes. Stewed peach, youngish banana and lots of white grapes. Some vanilla cream and honey. Cinnamon cookies. Subtle smoke as well, but overall rather light and fresh indeed. Soft floral notes. Simple but really pleasant.

Mouth: almost surprisingly light-bodied and fruity, with lots of youthful notes. Peaches, lime, hints of coconut. Even a tropical hint of passion fruit that reminds us of the great Bowmore 1993 expressions. Then some salty notes and seaweed. A modern touch of oak, always with vanilla in the background.

Finish: medium long, the smoke returns while the creamy vanilla stays strong. A hint of mint in the very end.
I couldn't note any whisky in the chocolate. It's a dark chocolate bar with a softer milk chocolate filling with hints of vanilla toffee, honey and salt. It's more of an inspirational, complementing flavour pairing, rather than just a praline filled with whisky, if you know what I mean. It's a tasty combination although the chocolate may be too rich and intense for such a delicate whisky.
On its own, Bowmore Small Batch is a lively but also surprisingly light and floral Bowmore. Quite uncommon – Islay for dummies? Worth trying though, as the flavours are really pleasant. Just don't expect a lot of complexity or an intense kick. Around € 35-45.
Score: 83/100