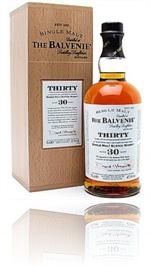 The Balvenie 30y 'Thirty'
(47,3%, OB 2004)
Nose: a complete flower bouquet, mixed with honey and fruit (tangerine and peach with some acid notes of citrus). Sawdust and butterscotch as well. Soft spices.

Mouth: clearly pear (caramelized) and when that starts to fade some spicier elements (pepper, vanilla). Orange peel. Is that a hint of smoke? The spices linger on in the finish with slightly bitter notes (cloves, chocolate). More pear.
I don't think I've ever tasted a bad Balvenie, but I've never been blown away by one either. This is very balanced, soft whisky, yet not very complex (= feminine?). This bottle costs around € 400 and that's difficult to justify.
Very nice anyway: 87/100.