Craigduff was a peated experiment at the Glen Keith distillery (or maybe Strathisla next to it, as stated on the label). They used peated malt but mostly peated water during distillation. Only a handful of single malt bottlings are available of Craigduff.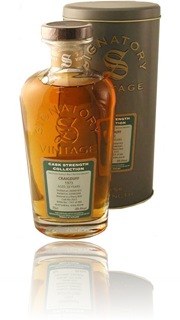 Craigduff 32y 1973 (49,4%, SV 2005, cask #2513, sherry butt, 566 fl.)
Beautiful nose, with notes of marzipan, ginger, apple compote and vanilla. After a while wax, a bit of peat and phenol shine through.

Mouth: strong, grassy taste, more wax, peat and apples. Something burnt as well, but very subtle and not unpleasant. Medium long finish starting on oranges and developing on bitter, dry notes.
I have a sweet spot for peated non-Islay whisky and this one is surely interesting, but also rather sharp and too grassy to be a real cracker: 86/100. Price: +/- € 200.