The Glenrothes released a 25 year old and 30 year old whisky exclusively for travel retail in the past couple of years. Now, there is a new bottling for duty free shops, the Robur Reserve. It is the first expression in a new cardboard box and a stretched version of the distinctive bottle.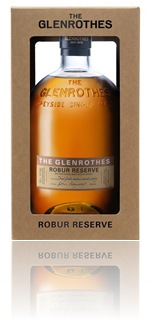 The name derives from Quercus Robur, the Latin name for European / Spanish oak. This Glenrothes was matured in first-fill ex-sherry casks. There's no age statement.
Glenrothes Robur Reserve
(40%, OB 2008, 1 liter)
Nose: instant toffee. Some vanilla, dried fruits and oranges. Hints of leather. Some soft flowery notes as well.

Mouth: very velvety and smooth. Malty and fruity flavours, vanilla again, rather sweet sherry. Fresh plums. Caramel. Hints of clove.

Finish: medium long, starting rather sweet and developing on toffee and spices.
Not bad, although it won't blow you away. Really mellow and easy-going, but less sherry than you would expect from first-fill casks. Around € 50 (1 liter). I like the Glenrothes Select Reserve better, and it's about the same price.
Score: 79/100