Only 2% of the production of The Glenrothes is used for single malt bottlings. The majority is used in blends such as Cutty Sark and The Famous Grouse. Interestingly, since 1993, they release vintage bottlings, each of a single year, instead of focusing on certain ages like most distilleries do. This is the result of Glenrothes being distributed by Berry Bros & Rudd, whose core business is selling wine.
I have a weak spot for The Glenrothes, especially because I think they have the nicest bottle design on the market (although Bruichladdich also realized that attractive design can boost sales).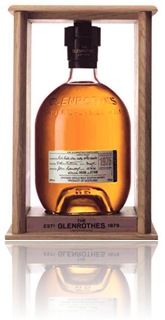 The 1975 was launched in 2006 and is the rarest Glenrothes vintage ever. Only 3708 bottles were made available of this 31 year old whisky, and at the moment it's almost extinct (expect to pay € 350 if you find one).
The Glenrothes 1975 31y
(43%, OB 2006)
Fruity nose (peach, orange), lots of vanilla. Hints of honey coated nuts as well. Really streamlined with a balanced wood influence.

Mouth: big grapefruit coming through together with almonds and more vanilla. Soft finish on spices (lemongrass, pepper, cinnamon) with chocolate. It could have been more powerful (why not try 46% like other brands?) but it's still very satisfying and harmonious. A showcase of Speyside.
Score: 88/100.