Laphroaig Cairdeas (pronounced more or less like 'gorgeous' and gaelic for 'friendship') was a limited edition for the 2008 Feis Ile (Islay festival). It's a blend of quarter casks (up to 9y) with a few older sherry butts (17y).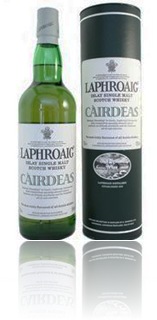 Laphroaig Cairdeas (55%, OB 2008, 3600 btl.)
Nose: condensed, with relatively subdued peat and smoke. The fireplace is softened by vanilla, sweet barley and hints of marzipan. Lemon and salt as well.

Mouth: barbecue, the usual medicinal and peaty notes but everything seems to be covered in a layer of toffee, caramelized almonds and lemon candy. The aftertaste is sweet as well but gets a lot drier after a while.
It's a rich dram but in my opinion a little bit out of focus. The nose is nice but relatively shy, the taste is quite sweet, the finish quite dry. Some say this is one of the best Laphroaigs of the last couple of years. I'm not one of them, I'm afraid.
Score: 84/100.
Investment tip: TWE still has stock (£ 50) while on eBay it is sold for more than 100 euro.