A second set of impressions from the whisky festival in Gent last weekend.
Long Red – Glen Ord 12y 1996
(46%, Daily Dram 2008, 184 btl.)
Young and fruity. At first it's more a 'green' whisky than a red one, if you ask me. Grassy notes, citrus. On the palate, it seems sweeter but the grassy notes are still showing up. The cherries that are promised on the label are present in the finish, if you have some imagination. I expected something more candy-like, but not bad at all.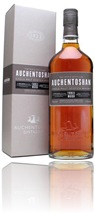 Auchentoshan Three Wood (43%, OB 2008)
Triple distilled and finished in three types of wood: bourbon, Oloroso and Pedro Ximenez sherry casks. Notes of caramel, stables. Rather sweet, floral notes as well. Also clear P.X. sherry influence (raisins, dry fruit, syrup). Not entirely balanced but better than expected.
Towards the end of the festival, I've had the pleasure to meet Gunter from 100° proof, the winners of this year's Whisky Award for best whisky club. Congratulations! He wanted to show some stunners and took me and my brother in law from one stand to another where he let us taste some great stuff. Thanks again, Gunter.

Bunnahabhain 38y 1970
(40,2%, Duncan Taylor Rare Auld 2008, cask 4075)
Caperdonich 36y 1972 
(54,4%, Duncan Taylor Rare Auld 2008, cask 7219)
No real tasting notes because it was getting late and the Bunnahabhain bottle was practically empty. Still, there was enough to know these are wonderful bottlings.
In the end, we've had a sip of the heavily peated 1992 Connemara cask that 100° proof bought for their club bottling. Really impressive and beautifully different. Lots of peat smoke, banana, tar, liquorice… with vanilla to ease it down a bit. Without any doubt the best thing I was able to taste that day! We made plans to rob Gunter. It was not succesful.