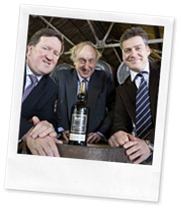 Lord Robertson is a former Nato Secretary General born on Islay. Ten years ago, when he visited the distillery, a cask of Ardbeg was laid down for his charity project Erskine. About two weeks ago it was bottled and made available in the online shop.
It's a fairly standard 10 years old Ardbeg, but as usual Ardbeg could charge £ 220 and still sell out in five hours, simply because it's a single cask. At least this time the earnings are donated to charity.
Ardbeg 10 yo 2000 "Lord Robertson" (53%, OB 2010, Committee release, cask #1217, 202 btl.)
Nose: the sweetness of white chocolate, vanilla and marzipan is very nice. It shows sweet peat, but it's not very smoky. Some apples and cloves. Faint hints of antiseptics and wet wool. Toffee. Water brings out freshly laid tarmac and burnt tyres with a citrus overtone.

Mouth: a nice pepper / peat / lime combo. Dark soot and tar but at the same time that sweet barley coating again. Chocolate and sugared almonds. I'm missing a bit of complexity in the middle: there's black soot and white chocolate but not much in between, if you know what I mean.

Finish: long and smoky with a hint of cocoa.
An interesting young Ardbeg with a fairly sweet profile. Nice enough as long as you don't take into account the price.
Score: 86/100