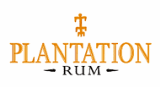 Plantation is a premium series of rum produced by small independent distilleries in different Caribbean countries (Barbados, Trinidad, Panama… which all have their own style of rum).
They have a unique "double aging" technique: first the rum is matured in small ex-bourbon or ex-sherry casks in the humid Caribbean climate, but after that, the casks are shipped to France where they are matured for another year in the cellars of the Château de Bonbonnet to give them more refinement and roundness. This technique was common in the 18th and 19th century, but it had almost disappeared.
This Plantation single cask rum was distilled in Barbados and is 11 years old. It has been selected by The Nectar (our Belgian whisky distributor).
Plantation 11 yo (45%, OB 2009,
single cask #01 for The Nectar)
Nose: lots of molasses, sort of a caramel smell. Unrefined Demerara sugar. Some vanilla and cinnamon. Great depth with smooth flavours but also notes of slightly burnt sugar. After 15 minutes in the glass and some hand warmth, a wonderful ripe banana smell comes through (Pisang Ambon) with beautiful notes of coconut cream.

Mouth: the coconut is taking the lead now (Malibu) with caramelized banana. A flowery element that is quickly overtaken by the oak. Tropical fruit juice. Some raisins. Sweet and smooth.

Finish: medium length, basically the flavours of the palate that fade slowly.
One thing is for sure: this Plantation single cask is a rum for savouring rather than mixing. It's a lot sweeter than your regular Scotch whisky, but it's definitely worth looking for. Whiskies are usually more complex than rum, even this kind of rare vintage rum, but they're priced a lot higher as well. Around € 40.