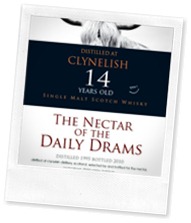 There are five new Daily Dram releases (now called The Nectar of the Daily Drams):
Later today, I should be able to taste them and post my first findings. Which one should I open first…?
Update: The Port Ellen review has been published. On the nose, the Glenburgie seems to be slightly disappointing, but the Glen Elgin is very interesting. The Clynelish shows a lot of violet candy and the Longmorn is a bit bubblegummy. But these are just quick impressions, an in-depth review will follow!