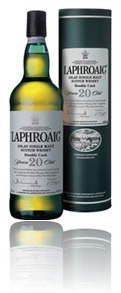 About two weeks ago, an interesting new Laphroaig was announced. I haven't seen this news on any of the major whisky websites, so I'm happy to pass it on.
Laphroaig 20 years old 'Double Cask' is a limited edition that will only be sold by the French Duty Free retailer Aelia. Essentially it is the recent bourbon matured Laphroaig 18 years with an extra maturation in small quarter casks and bottled at 46,6%. We can expect it to be slightly sweeter and probably a bit richer than the original.
750 individually numbered bottles will be made available at € 225 later this month. Something to look out for if you're passing through Paris-Charles de Gaulle.