Nikka From the Barrel is a blend of grain whisky from Miyagikyo and malt whisky from Yoichi. Three more Japanese whiskies to go in this little series.
Nikka 'From the barrel' (51,4%, OB 2010, 50cl)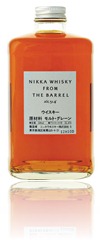 Nose: fruity and floral, with apricot, banana and pineapple aromas, oranges and some fresh oak. Honey. Almonds. Cinnamon sticks and vanilla, a little pepper as well. A balanced sherry nose.

Mouth: creamy with plenty of punch at the same time. The grains are maybe a little too sharp around the edges, but the rest is very tasty. Malt and nougat. Caramelized sugar. Fresh lemon. Fruit tea. Drier towards the end, with spices like nutmeg. Even a hint of peat?

Finish: quite long, malty and spicy with a lightly bitter edge.
This is a well-made, intense whisky that's not easy to recognize as a blend. Around € 25 (50 cl) so great value for money.
Score: 80/100