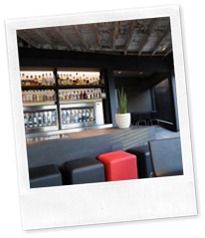 Baràbas is one of the trendy bars / restaurants in the centre of Boechout near Antwerp. They're focusing on wines by the glass (40 wines from one of these enomatic machines) and whisky.
Their range features a lot of common brands (Glenmorangie, Bruichladdich, Balvenie, Laphroaig, Highland Park, almost the complete range sometimes) but also foreign names like Mackmyra, Belgian Owl, Amrut or Yamazaki. The most expensive ones are Royal Lochnagar 30yo 1974 Rare Malts and a Nikka Yoichi 20 years old.
Apparently the person responsible for whisky wasn't there (on a Saturday evening), so the waitress spent 15 minutes trying to match her (phonetic?) notes to something from the menu. At first she brought me a white wine that also started with "fi" and it took another 15 minutes to get an actual Glenmorangie Finealta. Let's suppose it was an off-day.
Location: St. Bavoplein 19, Boechout
Range: +/- 100 single malts
Price: € 5 to € 40 (for a 3cl dram)
What I've had: Glenmorangie Finealta (€ 12 – attractive nose, disappointing palate) & Bruichladdich 16yo Bourbon (€ 10 – a good, natural dram)
Glass: Schott Wiesel Pure (ice in a separate glass)
Pros: balanced selection, nice atmosphere, friendly
Cons: slow service, no product knowledge, no music?