Before we move on with the BenRiach single casks, I'd like to draw your attention to a few other new releases. September / October tends to be an interesting period as bottlers present their new releases for the rest of the year. The festival season has started so there should be a chance to try them in the near future. Unless they are sold out by then…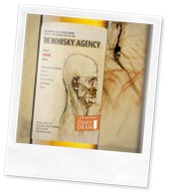 The Whisky Agency has a new Anatomy series which features sketches of Leonardo on the labels. This is the line-up:
Inchgower 36 yo 1974 ex-sherry
(very citrusy with little sherry)
Glenlossie 35 yo 1975 ex-bourbon
Lochside 29 yo 1981 refill hogshead (quite a grainy nose and truckloads of citrus, mainly grapefruit)
Bowmore 15 yo 1995 ex-sherry
Reviews of the Bowmore and Glenlossie are coming up.
On top of this, there are new additions to the Perfect Dram VI series:
Linkwood 36 yo 1973 ex-bourbon
"A Speyside" 41 yo 1969 ex-bourbon (Glenfarclas?)
Glen Moray 36 yo 1973 ex-bourbon
Glen Elgin 35 yo 1975 ex-bourbon (review coming up)
It's interesting to see a lot of joint bottlings and similar casks, a concept that has become very popular lately (more exposure, or a cheap way to have more limited releases?). The Lochside and Bowmore bottled by TWA are also available from Daily Dram which means you can buy the same whisky in different bottles. Note that their Bowmore is bottled at 46% whereas TWA bottles at cask strength. Although both are releasing a Linkwood 1973, there is no mention of co-operation so it's probably just a similar cask.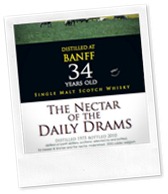 Daily Dram also shares a few casks with
La Maison du Whisky:
Linkwood 36 yo 1973
Banff 34 yo 1975
Clynelish 27 yo 1982
I was able to try the last two recently (thanks Jeroen). The Banff is really good and highly recommended but the Clynelish didn't seem to be on the same level as other Clynelish from the same year (this one was pretty sharp and mineral, I like them rounded with more vanilla). As far as I know, the LMdW versions are yet to be announced.
Conclusion? A lot of new and promising (premium) expressions to choose from, many of them with a label of your choice!