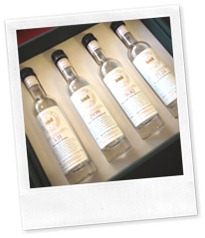 New members of the Scotch Malt Whisky Society get a membership pack which includes four minis of recent Society bottlings.
A few months ago, one of them was this 20 year-old Laphroaig matured in a sherry butt (alongside an Auchentoshan, Mortlach and Glen Ord). Only available for new members as far as I know, I don't think it was released in the regular 70cl bottles that regular members can buy.
Laphroaig 20 yo (59,6%, SMWS 29.99 "Power and Scorched Earth", sherry butt, 10 cl)
Nose: my God, that's sticky. Full of raisins, oranges, thick honey, figs, hazelnuts… Huge tobacco notes as well, hints of leather. Isn't this sherry, matured in a Laphroaig cask? Well no, there are indeed notes of ashes and cigarettes, and a few coastal hints, but less than any other Laphroaig, and they take some time to come out.

Mouth: ah, here it is. More peat and smoke now, some medicinal notes, a few hints of rubber as well, I'm afraid. Fairly fruity, plenty of raisins, before fading on nothing but ashes and tobacco.

Finish: long, smoky, with a winy edge and some oak.
That's strange, a Laphroaig being overpowered by a fireworks of sherry. The typical aromas get blocked out – only on the palate does it fight back with plenty of ashes and smoke. It's like a beginner's attempt at getting the balance between sherry and peat right, add as much as you can of both and see what happens.
Score: 82/100