In March 2013, Tullibardine announced a total makeover of its single malt range – a logical move after the distillery had been sold to the French Picard company. In line with the state of the whisky market, most of them are NAS (no age statement) versions.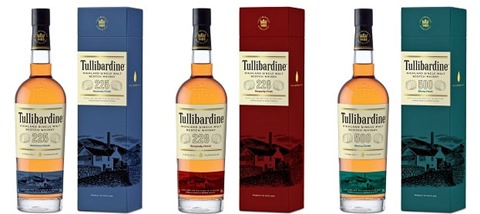 Tullibardine Sovereign is the new entry level expression. This is a first fill bourbon barrel matured version. There's also an aged 20 and 25 year old, as well as three 'core' finishes: 225 Sauternes, 228 Burgundy and 500 Sherry. The numbers relate to the size of the casks in this case.
Tullibardine Sovereign (43%, OB 2013)
Nose: malty nose with pear drops and creamy white chocolate. Fresh cereal notes. Vanilla custard. Very soft gristy and mineral notes. Undemanding, modern whisky.

Mouth: still very malty. Lots of apples and pears. Quite a lot of spicy notes now: cinnamon, pepper, mint and ginger. A faint potpourri edge as well.

Finish: medium long, more malt and ginger, with soft nutty notes.
Even though it's slightly uninspired, this is not an entry level whisky to be ashamed of. It's a fresh and properly made spirit, which was not always the case for previous distillery bottlings. Around € 40 from The Whisky Exchange.
Score: 79/100