Hanyu distillery, which was started by the grandfather of Ichiro Akuto in 1946 and which produced whisky since the 1980's, was halted in 2000. Although Ichiro's father sold the distillery, he decided to store the remaining casks in a warehouse.
After a while, he started bottling them in a series called Ichiro's Malt, better known by its nickname, the Cards series. Each bottling has a playing card on the label, and after 53 cards it was time to release the final expression, The Joker.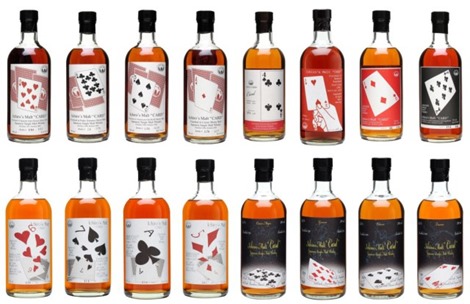 Actually there are two Jokers. The first one has a coloured label and is a vatting of 14 casks, filled with six vintages of Hanyu (1985, 1986, 1988, 1990, 1991 and 2000). The style of casks is very wide – it includes hogsheads, sherry butts, puncheons, cognac casks, Madeira hogsheads, bourbon barrels and chibidaru casks (a Japanese version of the quarter cask).
The other Joker has a monochrome label and is from a single cask #1024 filled in 1985 (Mizunara oak finish).
Hanyu 'The Joker'
(57,7%, OB 2014, multi-vintage, 3690 btl.)
Nose: a typical oriental Hanyu profile. Turkish delight, a little eucalyptus, quite some floral notes (rose petals and a mild potpourri effect) and plenty of sandalwood. Hints of fragrant herbs, toffee apples, raisins and plums. Hints of polished leather. Some gingerbread and vanilla as well. Very rich and complex, and extremely elegant.

Mouth: again really exotic and pleasantly sweet & sour. Lots of spices (cardamom, ginger and five-spices powder), some yuzu peel and then classic dried fruits (bramble, figs and dates). Kaffir lime. Polished oak and mint. Aniseed. Some wood smoke and sweet tobacco in the background. Hints of vermouth or Fernet as well.

Finish: long, spicy, herbal, with tea and honey.
Quite a kaleidoscopic Hanyu. I'm sure the different wood types brought something specific to the table, but it manages to make it into a nicely integrated ensemble. A fascinating end to this series. Originally around € 130. Now sold out in Japan, leading to auction prices of € 700 and more.
Score: 91/100