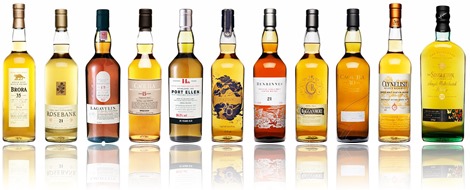 Update: looking for the Diageo Special Releases 2015?
It's that time of the year again. Diageo announced its Special Releases 2014. This year the list contains 11 bottlings. They're always highly anticipated but I feel the interest has lowered. Lots of aficionados started to feel a little indifferent since prices skyrocketed around 2011-2012.
Left to right in the above overview:
Brora 35 yo 1978 (48,6%, 2964 btl.) – € 1500
Rosebank 21 yo 1992 (55,3%, 4530 btl.) – € 400
Caol Ila 15 yo 1998 unpeated (60,39%, 10668 btl.) – € 90
Port Ellen 35yo 1978 (56,5%, 14th release, 2964 btl.) – € 2800
Benrinnes 21 yo 1992 (56,9%, 2892 btl.) – € 300
Singleton of Glendullan 38 Year Old (59,8%, 3756 btl.) – € 1000
Prices are likely to be a bit higher still. They are based on the UK price and in the past this turned out to be lower than the European equivalent.
There's no doubt this is a wide selection, with whiskies of all kinds of styles. I suppose only two of them are within reach of most whisky enthusiasts, the rest is investment material more than anything.
It's the first time we're seeing a Strathmill and Glendullan in the Special Releases – 2014 is also the first time a high-end Clynelish is bottled without an age statement.
For me personally, I'm especially interested in the Rosebank 21 Year Old and Coal Ila 30 Year Old, which should have an interesting profile and seem to have undergone a (relatively) modest price increase compared to past editions.