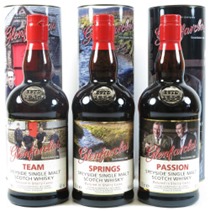 Glenfarclas – The Legend of Speyside is a small series of three bottlings, originally for the German market but now also available elsewhere.
Alongside Passion and Springs, it is a tribute to important elements in the history of this family-owned distillery.
These expressions are matured in Oloroso sherry casks provided by the Spanish cooperage José & Miguel Martin, a long-time partner of Glenfarclas and other whisky distilleries around the world. It's based in the province of Huelva, outside of the official sherry triangle. That means their wines cannot be called sherry (hence how would you call their casks?) but let's not go into that.
The youngest whisky in the mix is eight years old.
Glenfarclas 'The Legend of Speyside' – Team (46%, OB 2014, Oloroso sherry casks, 6000 btl.)
Nose: a slightly thinner kind of sherried whisky, with mostly oranges and apples. Fruit eau-de-vie. Some rhubarb. There's a prevalent sourness instead of the usual sweetness. Something of white balsamic and soft spices.

Mouth: very similar. Oranges and orange liqueur, plus fruit teas and soft herbal notes. A sweet and sour combination. Also hints of apricots and raisins. Some liquorice and oak.

Finish: a bit short, with only the oak spices and a hint of bitter herbs and coffee standing strong.
A slightly funny Glenfarclas, somehow quite thin and not as rich as other releases. An honest yet boring dram, certainly not a must-have. They're presented as 'collectibles' but I don't see much potential there either. Around € 35.
Score: 81/100