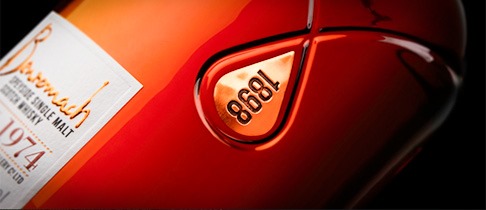 I've been on holidays in Greece for the past three weeks – you may have noticed that there were less brand-new releases on the blog. I'm now catching up and we'll start with this Benromach 1974 single cask.
This well-aged single malt was bottled from sherry butt #1583, filled by the previous owners and one of the oldest casks in the warehouses.
It comes in the same style of bottle as the Benromach 35 Year Old. A book accompanies the whisky, delving into the Benromach history and providing some fascinating stories about the people behind the whisky.
Benromach 41 yo 1974 (49,1%, OB 2016, sherry butt #1583, 452 btl.)
Nose: very rich, with luscious notes (raspberry jam, dark sugar, apricots, bananas flambéed) alongside mentholated and slightly earthy notes. Lots of polished furniture and honey, hints of leather and library dust as well. Some raisins and milk chocolate. Orange peel.

Mouth: very fruity and round after all these years, nicely in balance with the polished wood. Tangerines, lime, herbal honey and tobacco leaves. There's a good dose of peppery oak, with a little ginger and over-infused tea that comes along, but it's not too much. Hints of orange cake and a hint of salted nuts.

Finish: long, with some bitterish oak, cinnamon and dark chocolate with ginger.
I think the 1976 vintage is still my favourite Benromach, but this one is virtually on the same level. A great dram in a 1970s-style that is almost impossible to find these days. Available from select retailers for around € 1500.
Score: 91/100