This Longmorn 1969 'Book of Kells' is one of the benchmark (sherried) Longmorns and I'm quite excited to try it.
This bottle comes with two different back labels. Bottles n°001 to 192 are bottled for The Mash Tun & Kask Tokyo, while n°193 to 460 are bottled for Japan Import System. We're trying the JIS version.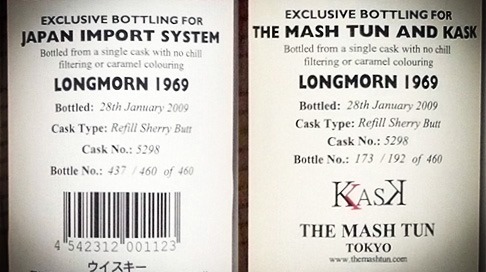 When I see the name Japan Import System, Longmorn is my first association. They also bottled 1969 cask #5293 in the same year – and several more legendary Longmorns from 1964-1965-1966-1967.
Longmorn 39 yo 1969
(58,9%, Gordon & MacPhail 'Book of Kells' for Japan Import System 2009, refill sherry butt #5298, 460 btl.)
Nose: where is your dictionary of superlatives when you need it? A mighty nose, with lots of cherry jam, dark plums, red berries and oranges. A whole array of oriental spices, hints of sandalwood and herbal honey. Nicely sweet and (oaky) sour, some balsamic touches. Pipe tobacco. Humidor. Plenty of oak polish. Also eucalyptus and subtle hair spray. Top-notch Oloroso. Maybe a slight hint of wood smoke or tar. Dark chocolate. And then back to red fruits, dried apricots, raisins. After a while even some pink grapefruit and passion fruit. Immense complexity.

Mouth: rich and powerful. Where to start… Classic dried fruits, with raspberries, plums, sour cherry liqueur, but again also these slightly tropical touches of pink grapefruit and passion fruits. Then peppermint and lime before moving to tobacco, cedar wood, leather and cocoa powder. Hints of Pu-Ehr and lots of exotic spices. Wonderful combination of intense fruits and intense sherry notes.

Finish: very long, oaky and minty, but with the sweet fruitiness underneath. Perfect elegance.
This will be one of the highlights of this year, I can give you that. Some of its sister casks like #5295 and #5297 focused more on the fruity, tropical, waxy side which was excellent already, but this takes it even further by adding a whole new sherried dimension. A must! Heartfelt thanks for the sample exchange, Kjetil.
Score: 96/100