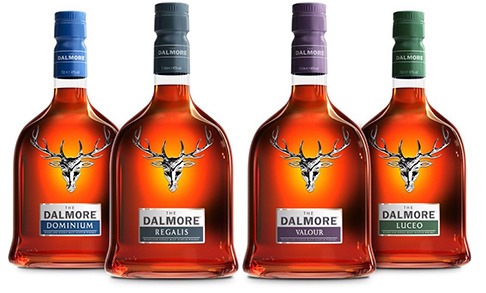 The cheapest option in the Fortuna Merita Collection from The Dalmore (see The Dalmore Luceo that we tried earlier). The Dalmore Regalis was finished in Amoroso sherry casks.
The name Amoroso isn't allowed on the labels of sherry bottles any more (you have to call it Medium or Cream now, depending on the amount of sugar), but González Byass and The Dalmore insist on using it for their sherry casks. Anyway it is an Oloroso sweetened by adding a bit of Pedro Ximénez.
As a side note: González Byass used to call its Amoroso sherry Bristol Milk, as a lighter version of the famous Bristol Cream brand (which gave its name to the whole category of sweet Cream sherries).
Dalmore Regalis
(40%, OB 2016)
Nose: quite good, it shows a deep sherry influence but doesn't overdo the caramel sweetness. Sweet nutty aromas (hazelnut, walnut), dried herbs, pungent ginger and Mexican (spiced) chocolate. Dark raisins and prunes. Hints of vanilla pods as well – actually more the woody side than the pastry-like notes, if you know what I mean.

Mouth: again not as sweet as you may think. Lots of coffee notes, blackberries, hints of nutmeg. Plenty of nuts. Overall quite dry, earthy and dark, but on the other hand also lacking a bit of richness.

Finish: not too long, on liquorice, dark chocolate and roasted walnuts.
This expression proves that a sweet sherry finish doesn't get you sweet whisky – or rather that the type of sherry used to season casks is of little importance. Not bad at all. Around € 75 for one liter.
Score: 82/100