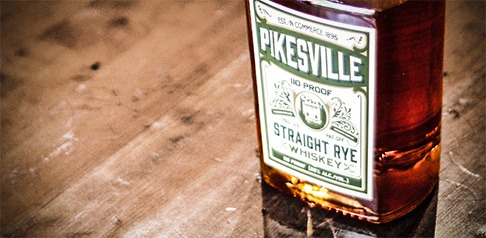 The Pikesville brand goes back to 1895 and was part of the once-booming Maryland rye industry. The brand re-emerged after prohibition and became the last standing Maryland Rye, until the brand was ceased in 1982 (after the distillery had already been closed in 1972) and sold to Heaven Hill, which kept producing it from their Kentucky operations as a product with a local Maryland distribution.
Fast forward to 2015. Rye is booming and Heaven Hill decides to relaunch Pikesville as a more premium 6 year-old, 110 Proof straight rye. Maryland whiskey style used to provide a softer profile, using a lower rye content. In this case the mash bill is reported as 51% rye, 39% corn and 10% malted barley. The same as their Rittenhouse rye actually.
It's relatively new but managed to scoop a lot of significant awards already.
Pikesville Straight Rye 6 yo
(55%, OB 2016, 110 Proof)
Nose: quite round and integrated. Brown sugar, mint and sweet cocoa. Coffee beans. Bananas flambéed and plenty of caramelized sugar. The rye brings some dusty spices to the table, mainly cinnamon. There's also an oaky touch but overall this is not the roughest of all ryes, it keeps the middle between a regular rye and a bourbon.

Mouth: drier and spicier now. Sweet coffee again, and plenty of baking spices. Cinnamon, clove, nutmeg. A little vanilla and honey, but on a lower level. Sweet liquorice. Hints of dried coconut. Overall quite oaky. A slightly fragrant / waxy touch as well.

Finish: long, spicy, with pepper and vanilla.
A good rye, with a balanced nose and then much more spicy oomph and oak on the palate. Around € 75 on this side of the ocean, already hard to track down. Thank you, Angelo.
Score: 86/100