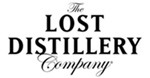 Although I never came around trying their releases, I've always been intruiged by the idea of the Lost Distillery Company. Over the centuries so many distilleries have been closed or destroyed, and no production survived. The company researches their production methods, location, historical conditions etc. to get an idea of what their malts could have been like.
There's no magic in that. No proof or certainty either. You could argue that yeasts, barley, wood and production methods in general have changed so much that it's impossible to get close to what they must have tasted like back then, if we can only use modern malt whiskies. Therefore instead of reproductions, better think of it as modern compositions vaguely inspired by lost distilleries.
Lossit distillery opened in 1817 on Islay, close to current-day Caol Ila. It became the biggest distillery on the island but closed fifty years later, overtaken by more modern plants with a better location. Here's the well documented background of Lossit distillery.
Lossit 'Classic Selection'
(43%, Lost Distillery Co. 2017)
Nose: sweet, with relatively gentle smoke. Slightly oily, with an almond / vanilla undertone and hints of banana cake. Sweet citrus. Soft leather. A little ginger but very much on the round, delicate side.

Mouth: quite a weak attack, showing some sweet nutty notes and sultanas first, but the smoke grows. Hints of black pepper as well. Light minty notes as well as soft brine.

Finish: not too long, mostly on pepper, sweet berries and smoke.
This Lossit-inspired blended malt is fairly light and sweet, with something of a diluted Laphroaig. A profile for beginning malt lovers (although the story is perhaps more for advanced drinkers). Going up to 46% (or more) could make this a lot more interesting. Around € 55.
Score: 77/100
There is also a new Lossit 'Archivist Selection'. In general this series uses older whisky, in this case to create a different interpretation of the same distillery.
Lossit 'Archivist Selection'
(46%, Lost Distillery Co. 2017)
Nose: much better, it has the same fruity sweetness, with more punch, deeper smoke and a salty hint. A little pineapple in the background, as well as something of buttered toast. Smoked fish. A creamier almond pudding note and a floral touch too.

Mouth: still not very punchy, but already much better than the Classic version. Smoky bonfire, mint, citrus, liquorice and black pepper. More or less the same flavours as the Classic, but with a better structure and less of a watery feel. Also, the medicinal side comes out more.

Finish: not too long, spicy and smoky.
Indeed this feels more mature and more balanced. Also the higher ABV makes it more flavoursome. Is this what Lossit tasted like? I doubt it, but it's a rather nice whisky. I would pick this version any time, after all the price difference isn't huge. Around € 70.
Score: 84/100