For this immensely popular Glenfiddich 15 Year Old Solera (probably their second best selling expression after their Glenfiddich 12 Years) the distillery works with whiskies aged separately in European oak sherry casks and American oak barrels (part of which is then finished for 3-6 months in virgin oak casks). These three components are then poured into a huge Solera vat, a 37.000 litres Douglas Fir tun inspired by the sherry bodegas of Spain.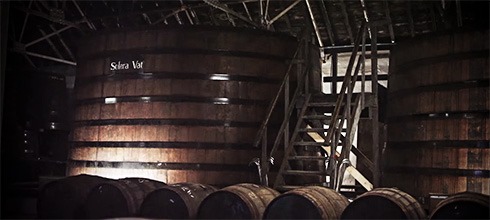 The Solera vat (first used in 1998) is never emptied. Whenever they take whisky from it (never more than 50%), it is topped up with new whisky. Not quite the same as the original sherry solera concept, but roughly the same idea of 'fractional blending' aimed at getting a high consistency throughout the years.
From the Solera Vat, the cask strength whisky goes to Solera Tuns (around 2,500 litres) for a further settling period of at least 3 months – a method used by Glenfiddich for all of their whiskies.
Glenfiddich 15 yo 'Solera Reserve'
(40%, OB 2016)
Nose: a creamy nose, that opens on plenty of honey and rich fruits. Stewed apples. Heathery notes. Orange juice. Some mashed banana and lemon buttercream. Bramble. Hints of musty wood and damp grasses as well, in a nice way. Vanilla fudge. It's definitely richer and darker than a Glenfiddich 12.

Mouth: nice mix of fruity notes (apples, citrus) and spices (ginger, clove, cinnamon). Vanilla and raisins, as well as subtle nutty notes. Slightly tart with a woody undertone. Overall rather on the dry side, and rather thin.

Finish: not too long, and its least impressive side. Malty, oaky and slightly dusty / leafy. Growing tobacco notes.
This Glenfiddich 15 Years Solera has an interesting recipe of course. It trades the typical 12 Years freshness for a darker, oakier, wintery profile. It's a modest step up from the 12. Around € 45.
Score: 79/100