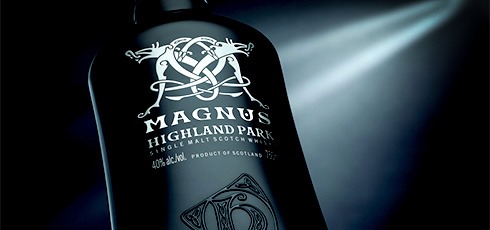 Highland Park Magnus is the latest expression from Highland Park, exclusive to USA and Canada. It is a non-age statement offering, composed with a higher proportion of sherry seasoned American oak casks, along with refill (ex-bourbon) casks.
I find it slightly confusing that they've named an entire series Magnus, with Saint Magnus and Earl Magnus expressions, and now another Magnus. Of course Magnus Eunson is the first distiller they can trace the distillery back to, but it will become hard to set them apart if they continue like this.
Highland Park Magnus
(40%, OB 2017)
Nose: sweet with plenty of bright, citrusy notes, berries and green apples coming out. Vanilla cake with lemon icing. Light, slightly fragrant, heathery smoke in the background, but less smoky than other HP's. Plums. Subtle herbal touches and toast.

Mouth: rather tame and watery, it takes some time to take off. There's a sweet hint of citrus, dried fruits and raisins, as well as some herbal notes, liquorice and pepper. The floral edge is back too. Light honey and a faint hint of salted caramel.

Finish: fairly short, the citrus returns with light smoke and a slightly bitter oaky edge.
I like the composition but the result is underpowered, pushing it towards people who are new to the Highland Park profile. Is it worth $40 in the US? Certainly, yes. Is it worth hunting down at all cost and paying a premium when you're not in North America? Not at all.
Score: 82/100