Diageo Special Releases 2017
The biggest whisky news of the week was probably the announcement of the Diageo Special Releases 2017, which came as a bit of a surprise. With so many bloggers having a daily look at the TTB label database, there's no way you can hide upcoming releases these days, so better take a shortcut and avoid speculations. Ten Special Releases this year.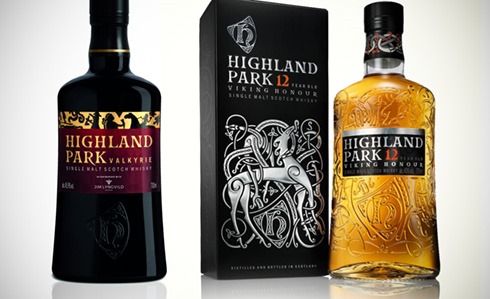 Highland Park Valkyrie / identity redesign
Highland Park redesigned its core range, inspired by the period in which Orkney was ruled over by Danish and Norse vikings. The bottles are now embossed with ornate decorations, still oval but wider towards the bottom, they have lots of metallic prints and they have a torque closure.
The new 12 Year Old, nicknamed Viking Honour, should arrive soon. The 18 Year Old Viking Pride will follow in autumn and the older expressions over the next year.
Then there's also a new Highland Park Valkyrie which will replace the Dark Origins. It's more heavily peated, bottled at 45,9% and available in a few weeks for around € 70. Valkyrie is the first edition in a new Viking Legends series, which will get two more expressions (Valknut and Valhalla) in the coming years. Update: see my review of the new Highland Park Valkyrie
Highland Park 15 Year Old will be phased out and will be replaced by a 100% bourbon cask expression called Highland Park Full Volume. It was distilled in 1999, bottled at 47,2% and will be around € 95, sold directly through the HP website.
Towards the end of 2017, we can expect a new Highland Park Magnus available in North America only. It's matured in sherry-seasoned casks and ex-bourbon casks, bottled at 40% and around $ 40.
Later we will also get a follow-up to the Fire and Ice limited editions and a Highland Park 50 Year Old.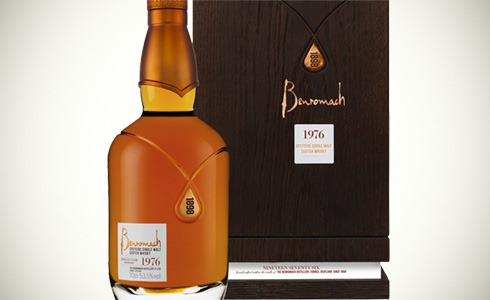 Benromach 1976 cask #2393
The Benromach distillery has launched a visitor centre exclusive single cask at the Spirit of Speyside Whisky Festival to celebrate a successful year for the distillery and visitor centre.
Benromach 1976 single cask #2393 is matured in a Refill American hogshead and bottled at 53,5%. Available exclusively at the distillery's visitor centre for around € 1500.