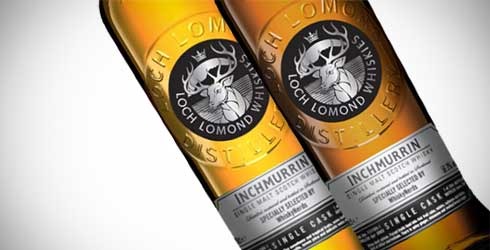 The WhiskyNerds in Holland will soon present their next bottlings, two Inchmurrin 2003 single casks that are actually part of a trio called Trias Usquebaugh. One of them was matured in a first-fill bourbon cask, the other one in a sherry cask. They've given them nicknames: Law and Order.
Part of both casks was kept apart for an Executive vatting that is marrying as we speak. So in due time they will bottle this as well and see if the marriage was successful. Great idea.
Inchmurrin spirit comes exclusively from Loch Lomond's straight neck pot stills. It comes off the still at a very high 83-85 % ABV, which causes the fruity notes to be maintained from the long fermentation.
Inchmurrin 14 yo 2003 'Order' (53,3%, OB for The Whiskynerds 2017, first-fill bourbon cask #17/168-1, 174 btl.)
Nose: nice and fruity, with some pineapple cubes and lemon candy. Oranges too, perhaps a little mango. Also a slight bubblegummy touch. Something of an apricot muesli bar. Bright and simple.

Mouth: same feeling. It boasts the qualities of a fruity spirit in a good bourbon casks. Sweet citrus and still some tropical touches, like pineapple and guava juice. Also some freshly sawn oak and creamy vanilla. Marzipan cake with frosting.

Finish: medium long, similar fruits now joined by some ginger, cinnamon and fresh oak.
An utterly fruity Inchmurrin. When I tried a series of Loch Lomond spirits a while ago, Inchmurrin was already my favourite, and this is a particularly bright example. Well chosen. Around € 100.
Score: 88/100
Inchmurrin 14 yo 2003 'Law' (56,3%, OB for The Whiskynerds 2017, sherry cask #17/169-1, 264 btl.)
Nose: the same aromatic fruitiness, in a sherried version, with ripe plums soaked in Armagnac, pink grapefruit, red berries and perhaps a hint of passion fruits. A good dose of fresh oak again, giving it a scent of deeply brewed fruit tea.

Mouth: fruity and oaky, a style that reminds me of some sherried Irish whiskeys, mixing elegance and richness. Cherries and raspberries, grapefruit. Fresh plums and apricots. Hints of old cognac. Subtle spices in the background, and just a tad of drying oak. Quite excellent.

Finish: rather long, rather minty, but always with this fruity sherry.
Such a pleasant whisky! Really, this reminded me of some of the best sherried Irish whiskeys I've tried. Wonderful, and probably the best value for money whisky I've tried this year. Around € 100. I've heard they would be available from Dutch retailers this Saturday. I predict a queue of campers.
Score: 91/100