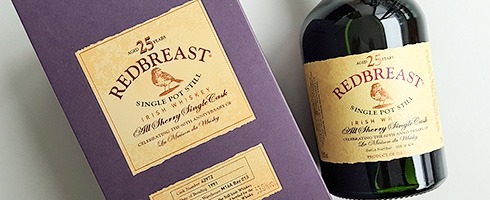 I already talked about this two months ago but never came around writing the review.
At first glance the Redbreast 25 Year Old looks like a regular, wide release but if you dig deeper into the label you'll find that it is a single sherry cask release for the 60th Anniversary of La Maison du Whisky. This is very rare for Redbreast and in fact it may be the oldest pot still whisky ever from Midleton distillery.
Redbreast 25 yo 1991 (53%, OB for 60th Anniversary of LMdW 2016, first-fill Oloroso butt #42972, 624 btl.)
Nose: glorious nose, which takes you back to cognac or even plums soaked in Armagnac, a profile which slowly evolves towards more classic Irish whiskey. Sweet fruity notes: apricots, tangerine, pink grapefruit, but also darker, dried fruits. Blackcurrants, dates, red berries, mixed with candied ginger and almonds. Chocolate. Lots of lovely waxed oak and something that reminds me of incense or a dusty cathedral. Excellent.

Mouth: still hesitating between Irish whiskey and French distillates, or so it seems. A burst of typical tropical fruits now (pineapple, passion fruits, mango, pink grapefruit), slowly picking up darkness of red fruit jam. Some spicy touches and gentle polished oak, overall really fresh and vibrant.

Finish: quite long, fruity and honeyed, ending on a very lightly bitter chestnut note and cinnamon.
Expensive but pretty awesome and a benchmark for sherried pot still. Around € 500. A few weeks ago it was discounted (much to my surprise), so I couldn't resist grabbing a bottle.
Score: 93/100