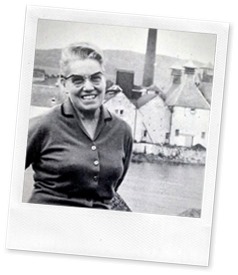 I don't really like all these concepts like 'International whisky day', 'International Silly Walk Day', 'World UFO day' or whatever, so it shouldn't come as a surprise that I missed a great opportunity to publish a tribute to a famous woman of the whisky industry yesterday, on International Women's Day.
Eiling Lim just bottled Bessie's Dram, a new release in her '100% Premium Quality NAS' series. Look it up if you don't have a clue about the distillery. It's on Islay.
In the same series there's also a new undisclosed Tennessee whisky (mind the spelling).
Bessie's Dram – Islay single malt
(51,3%, Eiling Lim 2016)
Nose: simple, and simply right, a high-end distillate. Clean phenolic smoke, with a pear sweetness behind it, almost mezcal if not for the beach sand, oysters, saltwater and such. Not as medicinal as the double-digit expressions. Lemons and mint.

Mouth: more mezcal character. Warm and slightly acrid smoke, phenols, seawater. Less sweet than expected, given its youth. Some burnt grass, ginger, lemon. Quite vibrant. Brine and smoke really, with some earthy notes in the end.

Finish: long, briny, smoky, all good.
Pure smoke and coastal goodness. Not too young, ticking all the boxes. If the aim is to bottle a nice, peated daily dram, then I can understand there's no need to wait any longer. Not sure about the price, should be very accessible. Oh and I believe Eiling Lim is currently on holidays, don't go flooding her mailbox, ha.
Score: 84/100