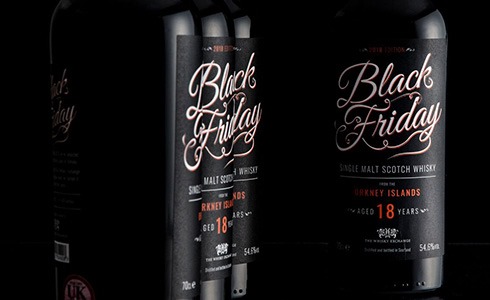 Last year The Whisky Exchange released a Black Friday whisky, an undisclosed 16yo Speysider which sold out in less than 20 minutes, even at 6 AM in the morning.
This year they're repeating this tradition with another undisclosed whisky from Orkney. I'm not saying it is Highland Park but there aren't many options available, right? We can be sure it's 18 years old and gently smoky.
Slightly older, mildly smoky, cask strength and roughly the same price, interesting.
Orkney Islands 18 yo 'Black Friday' (54,6%, Elixir Distillers 2018, 1400 btl.)
Nose: sweet heather notes and fresh sea spray salt up front, with plums and a juicy lemonade note which make it fresh and mouth-watering. Light chalk and linseed oils, something of cactus juice. Lots of tiny notes as well: floral (geranium), sweet (honeysuckle, marshmallow) and mineral notes (wet stones) in nice harmony.

Mouth: modern barley sweetness, oranges (with skin), stewed apples, a touch of butterscotch, with some resinous notes slowly creeping in. Gravel, a little mustard. Olive brine. A touch of woodsmoke. A dry, chalky feeling towards the end.

Finish: medium, still a little floral and leafy, with an oily feel, grape pips and a metallic touch.
Good, punchy Highland Park with moderate smoke but a firm coastal and waxy footprint. Around € 75, that's € 25-50 below the price of other indies. An attractive deal again, available from The Whisky Exchange (at the time of publishing, now sold out…).
Score: 88/100