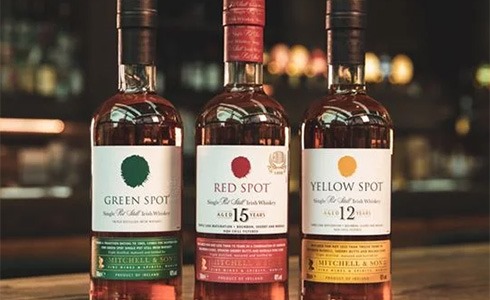 The latest expression from Mitchell and Son who revived the 'Spot' range in 2012 is called Red Spot.
The Mitchell family commenced trading in 1805 on Grafton Street in Dublin as purveyors of confectionery, wines and fortified wines. In 1887 they expanded into the whiskey bonding business, buying Jameson spirit and ageing them in their own maturation cellars. Soon they realized that empty wine and sherry casks could be used for this practice. In fact they were the only companied that had the privilege to 'enhance' Jameson's whiskeys.
The coloured spot names originated from the Mitchell's practice of marking casks of different ageing potential with a spot of coloured paint, like Yellow Spot and Green Spot.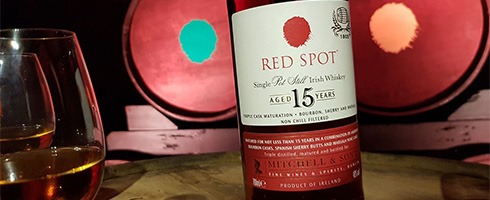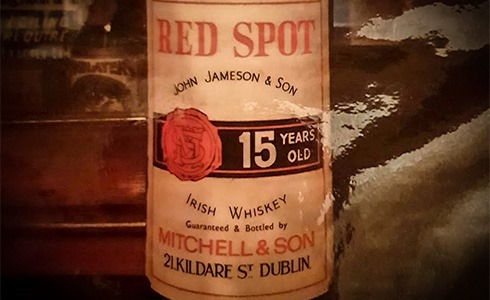 Bonding was prohibited in Ireland and the whiskeys disappeared in the 1960s. The new Red Spot marks a new highlight in the revival of the brand. It is a Single Pot Still Irish Whiskey produced at Midleton distillery and matured for over 15 years in a combination of American Bourbon casks, European oak sherry butts and American oak Marsala wine casks, brought in from the Sicilian producer Florio.
Now the only colour missing is Blue Spot…
Red Spot 15 yo
(46%, Mitchell & Son 2018)
Nose: quite complex, and the slightly dusty and spicy wine cask influence stands out nicely. Cooked fruits, baked apples, dried apricots with cinnamon and nutmeg. Hints of mango in the background. There's a subtle hint of cognac at times, as well as a whiff of new leather and mint.

Mouth: soft onset but it grows stronger. Crushed black peppercorns, strawberry jam and a little aniseed. Clear winey notes. The bursting fruitiness is not here, this is a warmer, spicier profile with traces of ripe fruits on a second level. Orange zest and a slightly grainy touch towards the end.

Finish: long, balancing between fruity notes and (bigger) spices. Hints of liquorice and oak shavings.
This fits perfectly in the range, finding a unique place with more wine and a Christmassy profile. Good timing. Around € 115, available for pre-order from Mitchell & Son, later also in select international markets.
Score: 85/100