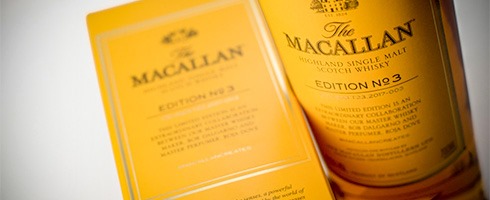 With The Macallan Edition No.4 around the corner, time to review the current release. In this popular wood-focused series, Macallan Edition No.3 was a slightly uncommon collaboration with master perfumer Roja Dove. He composed this edition with the same formula as he's using in perfume, pinpointing complementary aromas, and balancing these with a "counterpoint" note.
Macallan Edition No.3 works with a variety of cask profiles: sherry butts and puncheons (both American and European oak), bourbon barrels and hogsheads… most of these are first-fill but there are some refill butts too. A selection this wide makes such a list less valuable in my opinion – it's not like you're going to trace all these individual types unless there is some focus, right? We should remember the bias towards first-fill oak though.
Macallan Edition No.2 was very good, so we have high hopes.
Macallan Edition No.3
(48,3%, OB 2017)
Nose: lighter sherry this time, with a bit more fragrant bourbon oak in the mix. Perhaps more plain wood aromas if you like. Citrusy notes, blending nicely with some flowery touches and apricots. A little vanilla and cinnamon. Heather honey.

Mouth: again quite elegant and polished.  Light toffee, fruit cake, lemon juice. A toasted note mid-palate before it goes to apples, vanilla and soft resinous herbs. Warm wood spices (especially ginger). Quite a lot of subtleties here.

Finish: medium long, spicy, but also honeyed.
The floral notes and fresh oak give this a slightly perfumed nose indeed, without overdoing it. Light, fresh and complex, the nose is definitely the best part although the palate doesn't disappoint in any way. Among the best Macallan expressions of the past few years. Most reviews still favour No.2 but I like this one almost as much. Most of it is gone, but it's still available at The Whisky Exchange for instance.
Score: 86/100