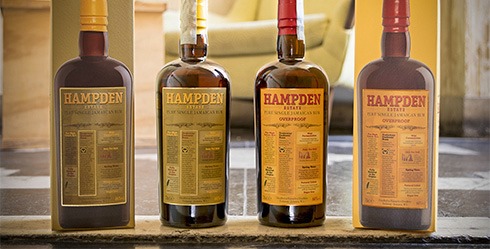 This is an official bottling of Hampden Estate rum, the pot still high-esters rum from Jamaica. We've regularly had it from 'independent bottlers' like Habitation Velier, now it's 'officially' imported by LM&V, a joint venture of La Maison du Whisky and Velier.
It exists in two versions: this regular Hampden Estate bottled at 46% ABV and an overproof version at 60% ABV. While the front label says 8 years, the back labels states a minimum of 7 years of ageing so we'll keep it at seven. As this is ageing in the tropics, it is equivalent to around 25 years of ageing in Europe.
Hampden Estate 7 yo (46%, OB 2018)
Nose: industrial and solventy, and I mean that in the best way. There's some diesel, paint and acetone. Then slightly fermented / heady bananas, caramelized pineapple and anchovy tapenade. A little stone dust. Some liquorice and a hint of fresh, earthy oak shavings. Wicked, but great.

Mouth: half fruity (pineapple, lime, grapefruit zest) with a bitter edge and spicy, grippy oak. Ginger, liquorice, salt. Plenty of tarry notes, varnish and paint thinner again. Herbs too, like basil and thyme. Not the most complex version, but still very intense and characterful despite the lower strength. Finish:
Hampden has this raw, slightly industrial quality which makes you go 'wow' (if you're open to it). A rum for Islay fans, recommended. I bought a bottle, any serious drinks enthusiast should at least know it. Available from Master of Malt or The Whisky Exchange, also the overproof version.