When releasing his first Prunier 1979 cognac, The Whisky Jury also surprised us with two very old expressions from the same house, a 1961 Fins Bois and 1960 Grande Champagne.
The presentation is awesome. Lovely hand-blown bottles with a special olive / moss colour, full of air bubbles. It comes in a heavy wooden box with an extra cork for when you remove the original one. A set weighs around 3 kg – really impressive.
Cognac Prunier 59 yo 1961 Fins Bois (53%, OB for The Whisky Jury 2021, 42 btl.)
Nose: damsons, blood oranges and mirabelles, mixed with honey, rose petals and big hints of polished wood. Hints of tobacco and balm. Whiffs of baked bananas, as well as a nice berry / rhubarb acidity. Not the tropical kind of fruitiness here, but it finds a great balance between darker fruits and robustness.
Mouth: minty and herbal notes up front, then raisins and plums. Hints of fruit tea but also earthy pu-ehr and tobacco leaves. Liquorice and subtle eucalyptus. A bit of cedar wood and walnuts.
Finish: quite long, dry and elegant, with more of the plummy fruits coming back.
After the 1979 this is a slightly more robust style. It really jumps out of the glass, with a wide array of aromas and lovely intensity. A nice combination of fruits, drier herbs and polished wood. Around € 340 (sold out).
Cognac Prunier 60 yo 1960 Grande Champagne (55%, OB for The Whisky Jury 2021, 42 btl.)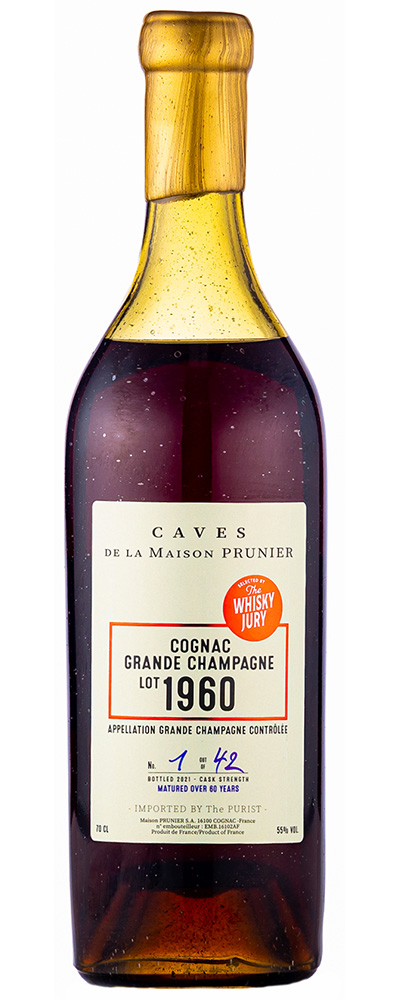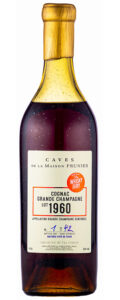 Nose: essentially the same profile, I would say, although I get slightly less acidity here and a bit more of the polished hardwoods and cigar boxes, even estery top notes that remind me of Jamaican rums. Lovely, and the integration is perfect. Bergamots, delicate waxes, plums and tobacco.
Mouth: slightly drier and spicier, showing black tea, liquorice, a pinch of pepper and lovely pipe tobacco again. Quite leafy and earthy now, the bright mentholated side of the 1961 is subdued here, and overtaken by darker notes like cedar wood, walnuts and herbal teas.
Finish: longer. This is where the fruits return, with just a hint of dark sugar, earth and herbs.
Another great selection. I have a slight preference for the 1961 because it feels a little leaner and brighter, but the added exotic wood and earthy notes make this pretty excellent as well. I can see why they were both selected. Around € 380 (sold out).
Score: 90/100