In about 14 days, Gordon & MacPhail will present the oldest single malt Scotch ever bottled, an 80 year old Glenlivet. Ahead of this launch, the company debutes seven Glenlivet expressions in the Private Collection and Connoisseurs Choice range, starting with a 2004 all the way up to a 1975.
We were privileged to try a 2004, 1993 and 1976 bottling from this line-up. Let's add that I tried them in reverse order, starting with the 2004, but it just wouldn't be fair to give the youngest release the biggest mention here.
Glenlivet 44 yo 1976 (51,3%, Gordon & MacPhail Private Collection 2021, first fill sherry hogshead #5648, 83 btl.)
Nose: oh man, luscious sherry. Plenty of red plums, raspberries and juicy cherries. Actual old Oloroso. Tobacco leaves and hints of old leather bags in the background. Whiffs of molasses and thick Demerara rums. Subtle foresty notes, candied ginger and orange peel too. Just a hint of lit matches but very much in the background, it could be cask char as well.
Mouth: dark, with a charred character indeed. Pipe tobacco and leather again. Mid-palate it gets slightly eerie, with an armagnac-like fruitiness of Seville oranges, kumquats and red berries. At the same time there are hints of cloves, a series of herbal potions and heavily infused teas, as well as teak oil and pine resin. Some tannins alright.
Finish: long and dry, with a pleasant raspberry sourness, sappy oak and liquorice.
A very polished sherry bomb, with a pleasant, juicy fruitiness. The cask influence is prominent but I really like this old rancio character. With just 83 bottles, you may need to use your elbows to get hold of it. And your Visa Platinum. It's around £ 1500.
Glenlivet 28 yo 1993 (53,1%, Gordon & MacPhail Connoisseurs Choice 2021, refill American hogshead #71580, 193 btl.)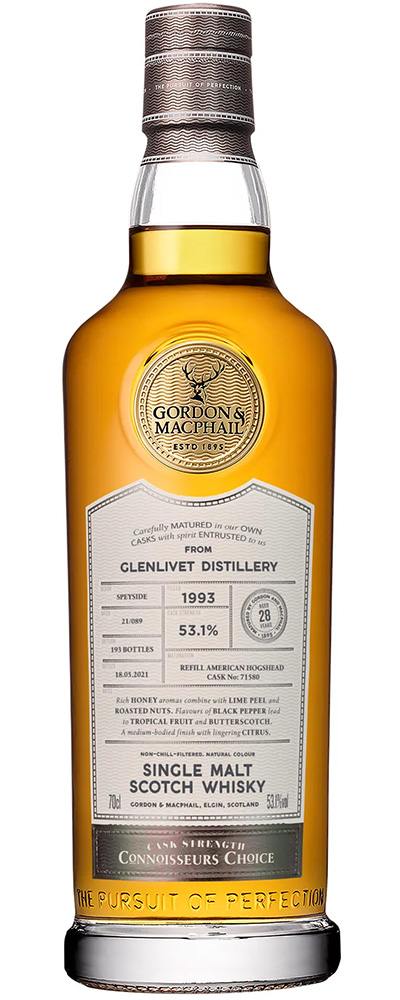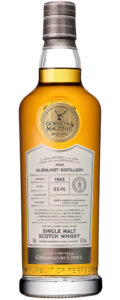 Nose: a seductive, concentrated and rather bourbonny style. It shows melons, bananas, ripe nectarines, with some honey and nectar, as well as lime peel and just a dollop of corn syrup. Beeswax. Vanilla cake and Marcona almonds.
Mouth: typical old Speyside notes, quince jelly, tangerines and apricot jam, mixed with beehive notes, pollen and pink grapefruit peels. Warming black pepper and some waxed oak. The oak spice is noticeable but the fruitiness is big enough to balance it.
Finish: long, with sweet orchard fruits, waxed oak and dried flowers.
This reminds us of some 1970s Glenlivets and Glen Grants, showing lots of fruity notes and a lovely hint of precious waxed oak. The insider's choice in this collection? Now available from The Whisky Exchange for instance.
Score: 90/100
Glenlivet 16 yo 2004 (46%, Gordon & MacPhail Connoisseurs Choice 2021, refill bourbon barrels #800671 + 800672, 510 btl.)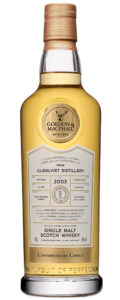 Nose: less sweet and less fruity than I expected. Plenty of pickled lemon peels and orange zest. Candied ginger, faint chalky notes. A clear bready side as well. Then some apples, light acacia honey and walnuts. Hints of eucalyptus.
Mouth: creamier and sweeter now. Apple compote, unripe pineapples and hints of icing sugar, before it turns back towards bitter grapefruit peels, liquorice and herbal notes. A little nutmeg and white pepper. Wee touches of green tomatoes and oak char.
Finish: rather long, still quite green, zesty and leafy, although there's a hint of vanilla as well.
It shares common ground with some of the Nadurra bottlings, but it's rather sharper and more austere than I expected. I'm guessing this was fairly inactive wood, and the spirit was probably still high in alcohol. Now available from The Whisky Exchange for instance.
Score: 84/100