Glasgow-based brothers Alasdair and Gordon Stevenson started Turntable Spirits and released the first expressions in their range of blended Scotch whiskies.
They have a combined experience of over twenty years in the whisky business (BenRiach, GlenAllachie, Douglas Laing, Inver House). It is clear that they've taken some inspiration from Billy Walker (the cask shuffling) as well as Compass Box (upgrading the perception of blended whisky).
Each of their creative blends come in a colourful bottle. There are a lot of music analogies, so the 2023 Turntable collection consists of three tracks in a wide range of genres.
Track 01 contains Linkwood (virgin oak), Knockdhu (Chinquapin), Girvan (red wine barrel) and Strathclyde (cognac barrel). The malt to grain ratio is 57/43%. Like all Turntable whisky, the compenents are left to marry for at least three months.
Turntable Blended Scotch – Track 01 (46%, OB 2023)
Nose: fresh and fruity. There's a lightly tropical note up front (pineapple, peach candy) mixed with floral overtones and hints of freshly sawn oak. Then red berries appear alongside orange peels. Quite fragrant and energetic.
Mouth: now the wood comes more to the front, as well as the grainy components. Baking spice (nutmeg, pepper, ginger). The malty note is more in the background now. Some apple, hints of vanilla and toffee. Light earthy notes towards the end.
Finish: medium, with some gingery heat and toffee sweetness.
Nice whisky, with a bright and fruity core. There's a good deal of active wood involved, but it never crosses the line. If you're in the UK, then bottles can be ordered from Master of Malt or Abbey Whisky. Their only distributor outside of the UK for now is Kirsch Import.
Track 02 is a peated composition. It contains Caol Ila (virgin oak), Benrinnes (Chinquapin), Cameronbridge and Invergordon (both virgin oak). The malt to grain ratio is 62/38%.
Turntable Blended Scotch – Track 02 (46%, OB 2023)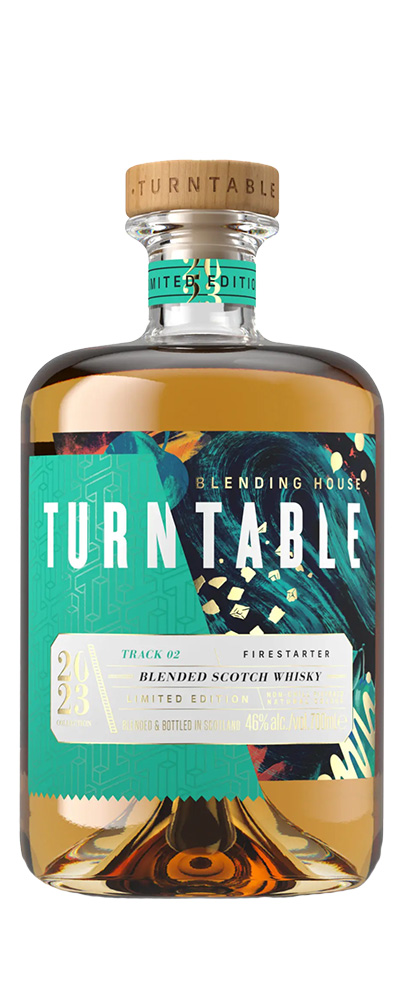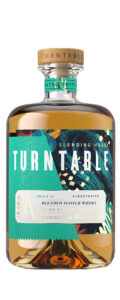 Nose: Caol Ila takes the upperhand, good. Fine campfire smoke, a coastal breeze and stripped boat planks. Then some stewed fruits in the background, as well as dusty grains, light caramel and hints of cinnamon.
Mouth: sweeter and less oily than pure Caol Ila, although it's still the most important flavour component. Ashy notes and quite a briney note, as well as a hint of roasted apple. Spiced Mexican chocolate comes out in the end, with warming wood.
Finish: medium, with sweet ashes, hessian and salt.
Composing a blend around Caol Ila is tricky, as it soon feels like an 'adulterated' version. While I didn't get that impression on the nose, it does come accross slightly too mellow on the palate, in my opinion. Overall not my favourite, I'd simply go for a single malt Caol Ila at a marginally higher price. Score: 82/100
We've had tropical fruits and peat, so it's not very surprising to see Track 03 revolves around sherry casks. The mix is made up of Craigellachie (Oloroso), Balmenach (Pedro Ximénez) and Invergordon (sherry barrel). A total of 86% malt whisky this time.
Turntable Blended Scotch – Track 03 (46%, OB 2023)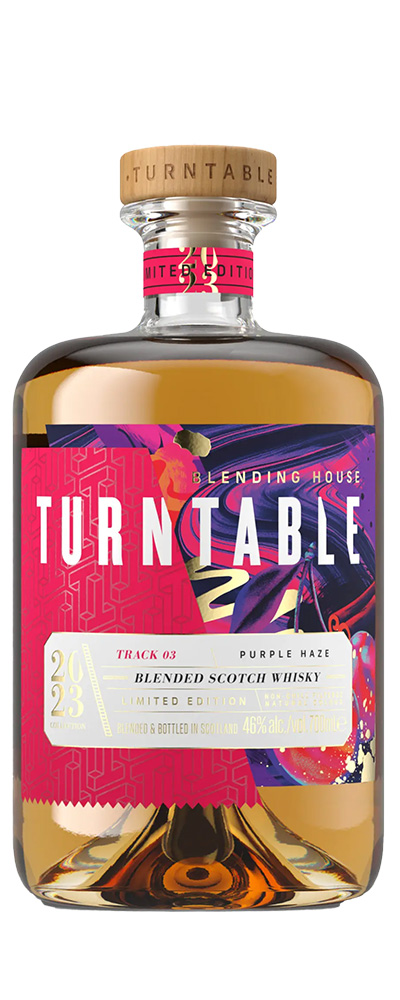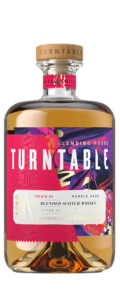 Nose: plenty of raisins, cherry candy and darker blackberries, with a good dose of dark chocolate and dates. The PX is easy to note. In a second wave I'm getting hazelnuts and caramel, with hints of oak char. Some vanilla pastry or crème brûlée as well.
Mouth: Starts on red fruits and toffee, with gentle black pepper and cinnamon. Later it becomes darker, with plenty of chocolate ganache and truffles, as well as leafy notes and just a hint of burnt caramel.
Finish: medium length, dark and leafy, with spicy notes and hints of chocolate.
A rich sherry composition. Slightly dark and chocolatey – I would have loved a bit more fruity notes here. On the other hand, it's well balanced and easy to drink. You don't notice the grain whisky at all. Again, head over to Master of Malt or Abbey Whisky, or get it from one of the German partners of Kirsch Import. Score: 86/100
In short: I'd be happy to order any of these whiskies in a bar. They're effectively blowing away most other blends out there. On the other hand they're not as cheap as you'd expect from a blended whisky (all around € 75) so in reality the real competition will be single malts from independent bottlers (of which there are so many already). Also, some blended malts have a better price/value ratio and offer more malty character, if that's what you're after.