It's almost impossible these days to find an independent bottling of Highland Park with that name on the label. Virtually all of them are sold as undisclosed Orkney whisky, even though they are so obviously coming from that distillery. Nobody is bottling Scapa after all.
Here we have five expressions. We start with three 1999 vintages bottled by the Thompson Brothers, Nanyang Whisky and The Whisky Agency. Then there is a 2007 vintage from Whisky-Fässle and a 2006 in the Orkney Sponge series.
Orkney Single Malt 22 yo 1999 (47%, Thompson Bros for Shamrock / Heather Honey Japan 2022, refill hogshead, 188 btl.)
Nose: quite citrusy, with a lot of high-pitched lemon juice and grapefruit. Some vegetal oils, hay, seawater and whiffs of candle wax. There's a mineral peaty note, but very minimal. Light pepper in the background.
Mouth: pepper and lemon / lime again, with a big grassy core and saltwater. Then some gin-like herbs and botanicals, as well as ginger. Unripe pineapple in the distance, but this is quite a tense profile with fruits playing second fiddle. Chalky notes emerge after a while.
Finish: medium length, still lemony but slightly creamier now. Mineral notes as it fades out.
Quite a narrow, austere Highland Park with hardly any peat. It stays grassy and mineral, without any make-up. Interesting selection.
Orkney Single Malt 22 yo 1999 (52,6%, Nanyang Whisky & Rejo 'Peninsula Collection' 2022, hogshead #8, 280 btl.)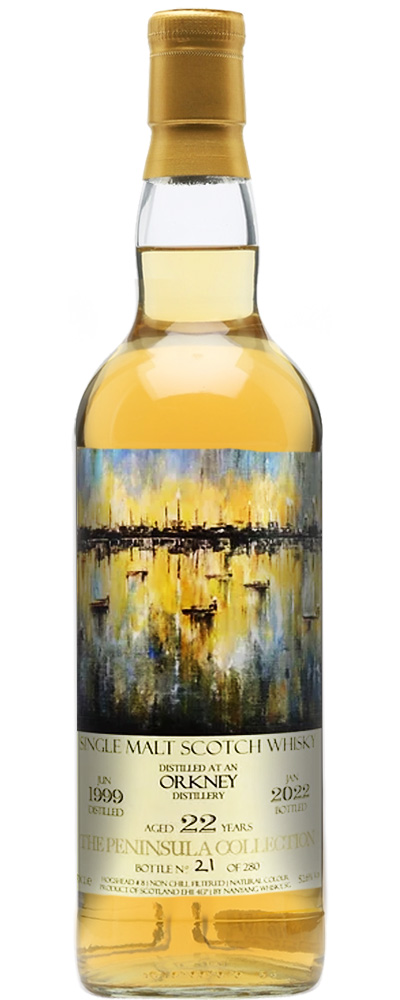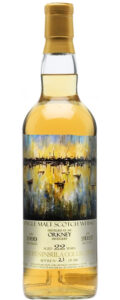 Nose: quite coastal again (wet pebblestones), although there's slightly more malty roundness than in the Thompson releases. Toasted oats and other cereal aromas, lemons and just a hint of vanilla. Also graphite, pine needles, heather and resinous notes. The smoky side is quite thin again.
Mouth: ah, more ashes now. A peppery profile that reminds us of Talisker in a way. Briney notes and kippers, with mint, camphor and chalk. A subtle fruity sweetness appears, making it more friendly. Medicinal herbs and oysters towards the end.
Finish: long and drier, still very coastal, with hints of lemons and tobacco leaves.
Richer, more complex, and more typical of Highland Park in my opinion. Simply a very solid, pure expression. Available from Nanyang Whisky. Score: 88/100
Orkney Single Malt 21 yo 1999 (53%, The Whisky Agency for Whisky Picnic Bar 2021, bourbon hogshead #7033, 242 btl.)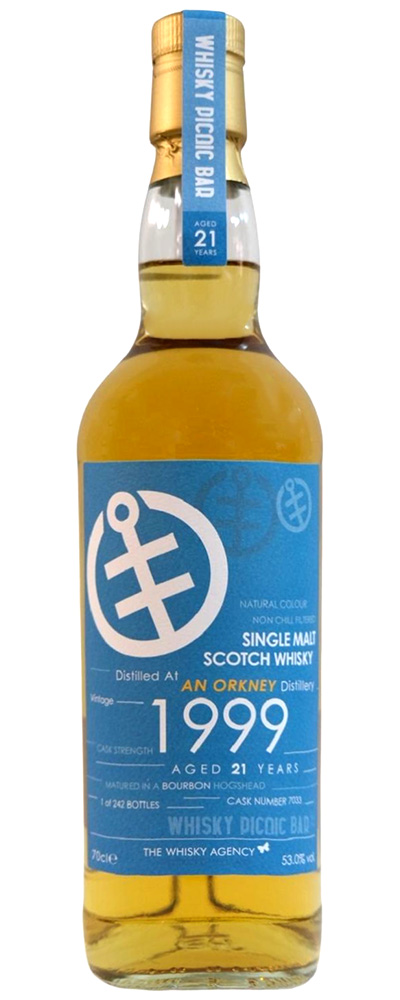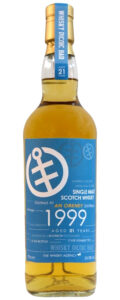 Nose: back to the rounder profile, with honey and glazed almonds, as well as some banana pie and vanilla. Lemons in a candied form this time, with mineolas.
Mouth: a lot punchier and frankly sharper than anticipated. White pepper, herbal tea, spiced up by grapefruit peels. Still a creamy texture though. Then toasted oak, barley sugars and chalk come forward. Some chocolate and surupy fruits as well.
Finish: quite long, with a faint roasted edge, sweet fruits and chalky notes.
This one nicely dials up the volume. The nose makes you expect a round and easy profile but on the palate sharpness notes make you feel alive again. Score: 87/100
Orkney Single Malt 13 yo 2007 (51,3%, Whisky-Fässle 2020, hogshead)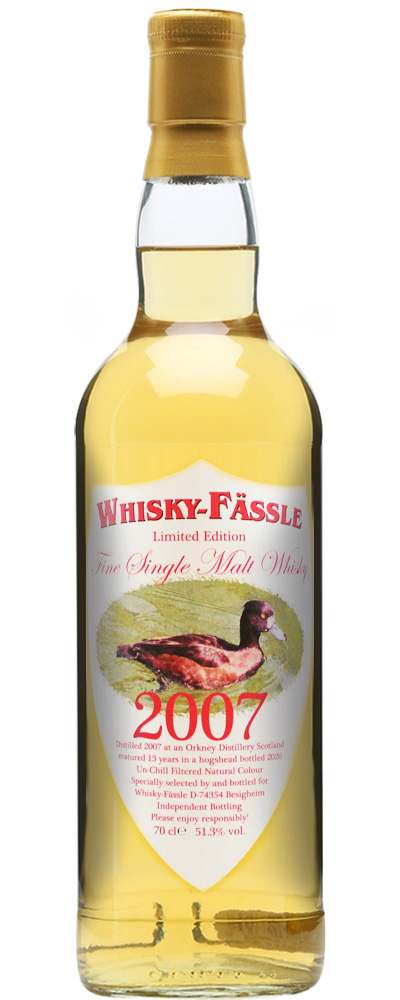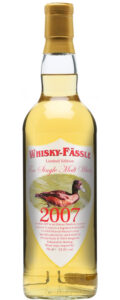 Nose: slightly more austere again, with lemon juice and lemon peels, green apples, a few tablespoons of honey, as well as light peaches. Then chalky hints, wet stones and muesli. Herbal touches and heather.
Mouth: sweet lemons and apples, balancing some grapefruit bitterness and salt. A subtle creaminess appears as well, walking a fine line between cask and spirit. More chalk, mineral oils and zesty notes in the end.
Finish: quite long, drying, with wet wool, chalk and lemons.
Clean, coastal and not too austere. Considerably younger than the previous bottlings but that doesn't mean this had less to offer, on the contrary. Long gone. Score: 87/100
Orkney Sponge 16 yo 2006 (57,1%, Decadent Drinks 2022, refill hogshead, 342 btl.)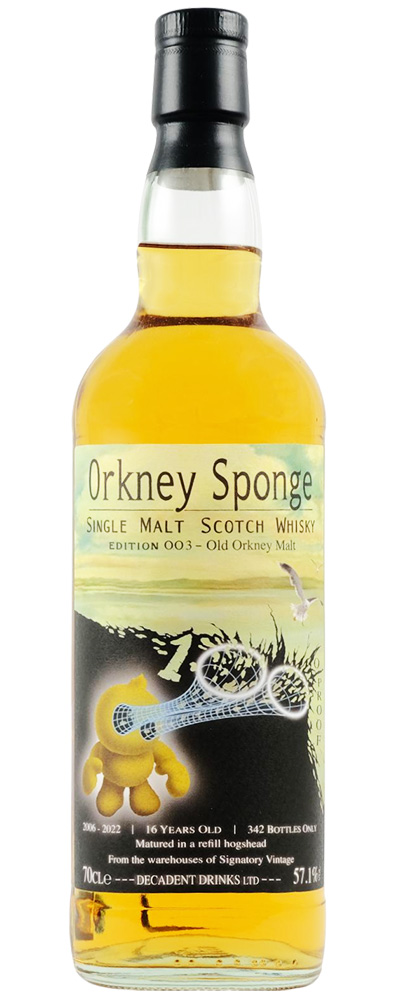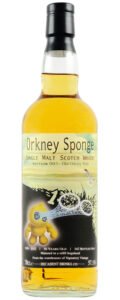 Nose: apple juice and chalk, as well as a firm saline note and yeasty dough. Hints of moist wood and the sourness of lemon yoghurt. Then some ginger and leafy notes as well. Natural.
Mouth: oily and very briney, with tangy citrus. Salted lemons and sour candy. Drops of gentian, as well as a vague peaty note. There's a lightly sweet, plummy note but it disappears quickly to become drier, with the kind of grapefruit you get in IPA. Crisp apple and ginger again.
Finish: long, still rather salty with subtle wax and herbs.
A very coastal expression, with a lot of salty notes and just enough fruits to balance the austerity. Very chisseled and rather perfect. Still plenty of options for this bottling: Decadent Drinks, TyndrumWhisky or Master of Malt. Score: 89/100