Two years went by since I tried the Shizuoka Prologue K and Prologue W, the inaugural bottlings from Shizuoka distillery in Japan. The Prologue is now over and we're now trying a similar pair with the first 'proper' releases: Shizuoka Pot Still K and Pot Still W.
As you know, K indicates the old Karuizawa still while W refers to a custom made wood-fired still. Then there's also a combined version called Contact S / United S, check the distillery website if you're interested.
Shizuoka Pot Still K is distilled from 100% Japanese barley and matured in 17 casks (bourbon and wine barrels). This should be 3 to 5 years old.
Shizuoka Pot Still K (55,5%, OB 2022, first edition, 5000 btl.)
Nose: bright and inviting again, with the typical Japanese herbal notes. A nice combination of grainy sweetness, hay and vanilla underneath. A little popcorn. Then a light varnished note, mint and aniseed. There's a very subtle mineral quality to it, also showing white flowery notes.
Mouth: now more of the botanical notes (almost gin-like in a way) that are so very typical of Shizuoka in my opinion. Juniper berries, lemon peels, hints of mint again. Then it becomes maltier and sweeter, with a little honey and melons.
Finish: not too long, malty with a lemony freshness.
This seems to have gotten sweeter and smoother than Prologue K, and I'm not sure that's better. I feel some of its Japanese character has been wiped out: the Prologue was more unique. Still very good though, for the age. Originally around € 130, I believe. Still available here and there, but in Europe you'll pay a serious markup.
On the other hand Shizuoka Pot Still W is distilled from 100% imported barley. The biggest part (70%) was peated Scottish malt. The remaining 20% was non-peated Scottish malt with 10% German beer malt. It is the first time Shizuoka distillery made a whisky with no Japanese malt at all. The whisky matured in ex-bourbon barrels and new American oak barrels.
Shizuoka Pot Still W (55,5%, OB 2022, first edition, 5000 btl.)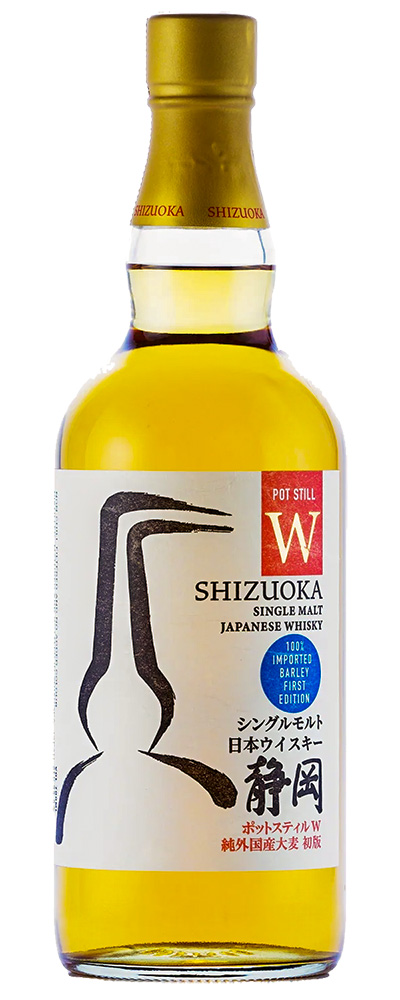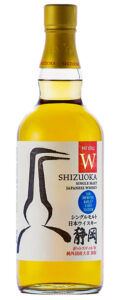 Nose: this is more unique. There's a big estery wave (nail polish and oil paint) alongside almond essence, aniseed and earthy peat. Lovely brass polish. More peat than I got in Prologue W. Then juniper is back, with lemon peels and fresh garden herbs. Subtle floral top notes after a while.
Mouth: simpler now, with youngish peat and an underlying malty sweetness. Hints of smoked lemons and peaches. Then it becomes both darker (with caramelized notes) and brighter (herbs and botanicals). Complexity is limited but the profile itself is pretty perfect.
Finish: quite long, on peaty smoke, black peppercorns, hints of salted liquorice and lemon juice.
I love the nose right away, and it kept developing in a nice direction. While I'm not seeing the same captivating developments on the palate, there's nothing to complain about either. Well made and distinctively Eastern, even with the peat. Somehow you can still find this for less money. Score: 88/100