In the past few weeks we've been looking at a couple of whiskies exclusive to The Whisky Exchange. The Singh family is celebrating the their 50th year of working in the drinks world. The Lagavulin 1991 Casks of Distinction and the entire Celebrating 50 Years series were outstanding.
Today we're looking at a series of Signatory Vintage releases. I believe there are six bottlings in total (black label, classic oval bottle, between 17 and 30 years old) but we'll split them in two and start with the Glen Keith 1993, Linkwood 1997 and Ledaig 2005.
Glen Keith 29 yo 1993 (54,3%, Signatory Vintage for The Whisky Exchange 2022, hogshead #82789, 236 btl.)
Nose: syrupy fruits, typical of Glen Keith. Gooseberries, bananas, pineapples and green apples. Honeysuckle and creamy custard with suble vanilla. Then acacia honey and almond oil. After a while it becomes minty and shows citrus zest. A fresh 'white wine' kind of whisky.
Mouth: even more exuberantly fruity now. Pears on syrup, mango yoghurt, jellybeans and more bananas. The green, minty side is back, now combined with a hint of earthy malt. Pine-y notes and lemon curd too. Some toffee comes out in the end.
Finish: long, now zesty and grassy, with hints of green apple and mild oak spice.
This is a sister cask of the 20th anniversary bottling. Overall it is really similar, though perhaps a little creamier. Really bright and fruity, a profile we can't resist. Now available from The Whisky Exchange.
Linkwood 25 yo 1997 (56,3%, Signatory Vintage for The Whisky Exchange 2022, hogshead #7581, 212 btl.)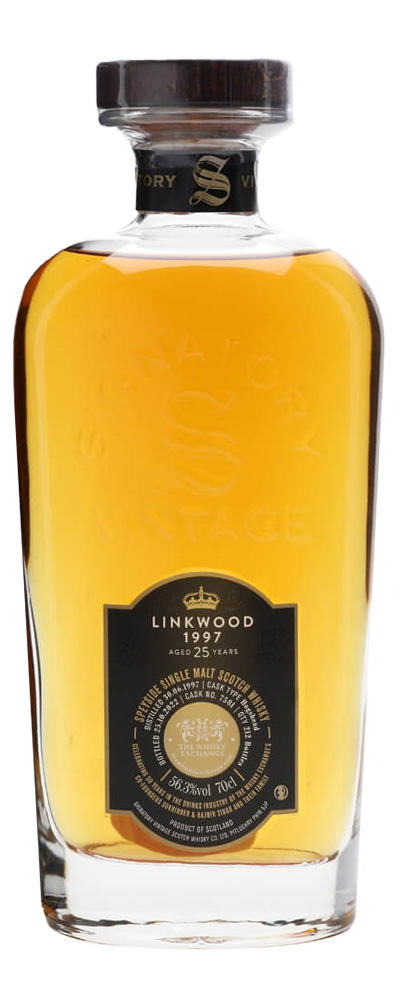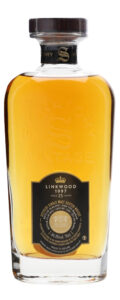 Nose: a buttery entry, on madeleines, banana bread and soft waxy notes. Pears and apples. Then hints of pancakes with a fresh oaky note. Some true vanilla, linseed oil and hints of dandelions.
Mouth: starts on sweet pears, gooseberries, blueberries and lychee. Then a layer of vanilla pastry underneath, again with baking spice and a fresh woody touch, almost a dash of bourbon whiskey. Quite jammy, but it becomes quite zesty and citrusy after a while (grapefruit).
Finish: medium, with lingering fruits, ginger and a little menthol.
Another sister cask of a 20th anniversary bottling. A particularly sweet and fruity whisky again, albeit with a good dose of oaky notes. Linkwood is often a little middle-of-the-road in my opinion, but this one is really good. Exclusive to The Whisky Exchange. Score: 88/100
Ledaig 17 yo 2005 (65,2%, Signatory Vintage for The Whisky Exchange 2022, refill sherry butt #90040, 460 btl.)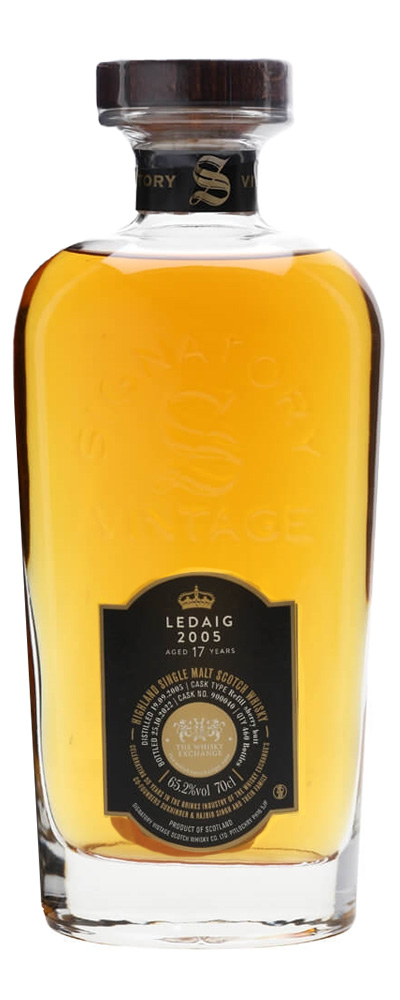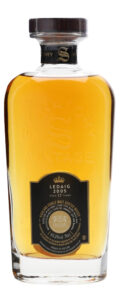 Nose: a sourish peaty profile, combining smoked almonds with roasted rhubarb. Then new plastics, light iodine and damp hay. Cigarette ashes. Crisp apples and fresh lemon juice prevail after a while, with tiny herbal drops. Pretty clean for Ledaig.
Mouth: raw stuff, although it's more quaffable than you'd expect at 65% ABV. A lot of tarry notes and ashes. Hints of paprika, burnt herbs and aniseed. Pipe tobacco. Leafy notes. A savoury hint of dried seaweed. Crushed black peppercorns in the end. A drop of water brings out chocolate sweetness.
Finish: long and sooty, with ashes and dark chocolate.
Classic Ledaig, with an intense peatiness and untamed power. The sherry plays second fiddle here. Not the most complex bottling but nicely clean. Exclusive to The Whisky Exchange. Score: 87/100