Some shop exclusives can be really interesting, showcasing a special profile or something more exciting than what the distillery is offering. As a shop you're adding a certain extra by selecting and approving a specific cask, using your brand as a seal of approval.
Now we're having two Douglas Laing whiskies exclusive to Master of Malt. There's a Benrinnes 2006 and Teaninich 2009 from undisclosed cask types. Judging by the colour we expect them to be rather distillate-driven.
Benrinnes 15 yo 2006 (51,5%, Douglas Laing 'Old Particular' for Master of Malt 2022, cask #15149, 294 btl.)
Nose: malty and clean, with grassy notes, hints of white bread and plenty of fresh barley. Apples and pears in the background, as well as vanilla biscuits. A light buttery touch as well. Not very exciting so far, but no complaints.
Mouth: a nice texture, with plenty of creamy barley notes. Also vanilla pastry and sweet apples and pears. Then sweet lemon candy and a hint of nougat. Wee peppery notes and hints of fruit eau-de-vie.
Finish: medium, with more citrus (lime) and vanilla towards the end.
This is a classic Johnnie Walker component and as a single malt it's pleasantly middle-of-the-road. Pretty fresh and friendly, with a balanced cask influence. Nothing groundbreaking, but a decent daily dram. Exclusively available from Master of Malt.
Teaninich 12 yo 2009 (53%, Douglas Laing 'Old Particular' for Master of Malt 2022, cask #15437, 333 btl.)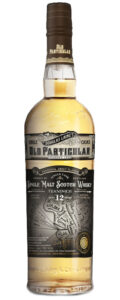 Nose: less convincing. It's quite mashy, with porridge and flour. Lemons appear, both fresh juice and lemon peels. A lot of wet grass underneath. Hints of latte and shortbread. Totally barley-driven. Not bad – I'm just not a huge fan of whisky made by Kellogg's.
Mouth: same. There's cake, bread, citrus and a green, leafy side. Some apple sweetness, alongside fresh wood shavings and subtle hints of toffee. Overall very biscuity but also rather uninspired, with plain alcohol shining through. A little ginger towards the end.
Finish: medium, still rather neutral, on candied fruits and gentle wood spice.
Compared to the Benrinnes this is even closer to the raw materials. While technically faultless perhaps, it is not very charming. In fact, for a shop exclusive I find this surprisingly boring. Only available from Master of Malt. Score: 78/100